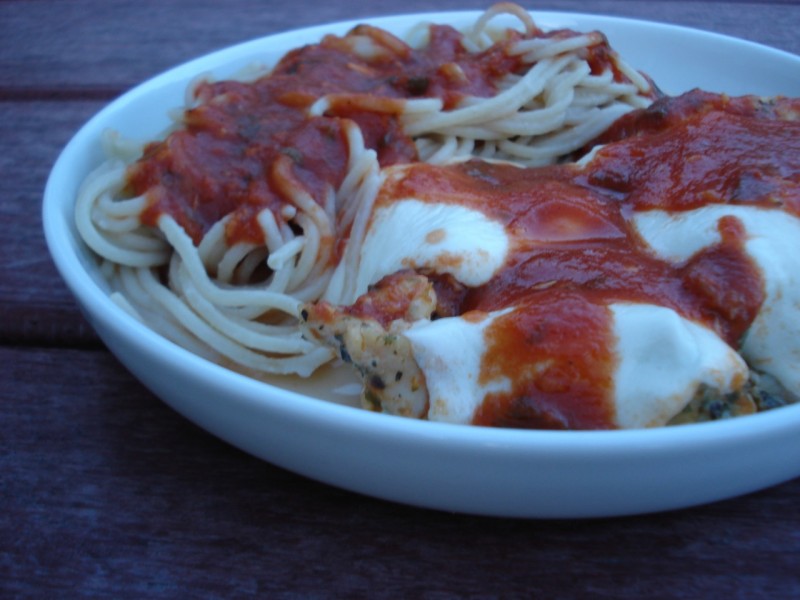 2 lbs boneless, skinless, pastured, chicken breast
1 large egg, lightly beaten
2 cups freshly grated parmesan cheese
1 TBSP dried basil
1 TBSP dried oregano
1 TBSP dried parsley
pure salt and freshly ground pepper to taste
2 cups (give or take) marinara sauce
fresh mozzarella cheese to taste
Preheat oven to 375 degrees.
Lightly coat a 9 x 13 baking dish with butter
Shred the parmesan cheese (a food processor is convenient for this).
Combine the parm with the dried herbs in a shallow bowl.
Beat the egg in a separate shallow bowl.
Dip each piece of chicken into the egg, then into the parmesan mixture until well coated.
Add the chicken pieces to the buttered baking pan, sprinkle with salt & freshly ground black pepper, and cook for roughly 25 minutes (give or take, depending on the thickness of your chicken).
Remove from oven (but keep the heat on), dollop sauce over each piece of chicken, add a layer of mozzarella cheese, and a bit more sauce over the top.
Return to oven and bake for an additional 5 – 8 minutes – until the cheese is melted.
Enjoy!
__________________________________________________________________________
SIDE NOTES

:

~   This is a delicious and simple way to prepare chicken.  I almost always have a few mason jars of marinara sauce in the freezer which makes it even easier.

~  For the best flavor, I recommend picking up a hunk of what's considered the king of parmesan cheese:  parmigiano-reggiano (deli section).  It's in a class of its own.

~  This time, I used 2 lbs of chicken strips (instead of breasts) because that's what I happened to have in the freezer.  I thought it would be a little annoying to prepare this way (with such small strips), but it was actually easier and faster.  Instead of dipping in one chicken breast at a time, I put the entire 2 lbs of chicken into the bowl with the egg, and used my hands to combine well.  Then I transferred it all directly to the cheese mixture, and used a large spoon to toss until all the chicken was coated with cheese.  Then I simply dumped it all into my buttered baking dish.