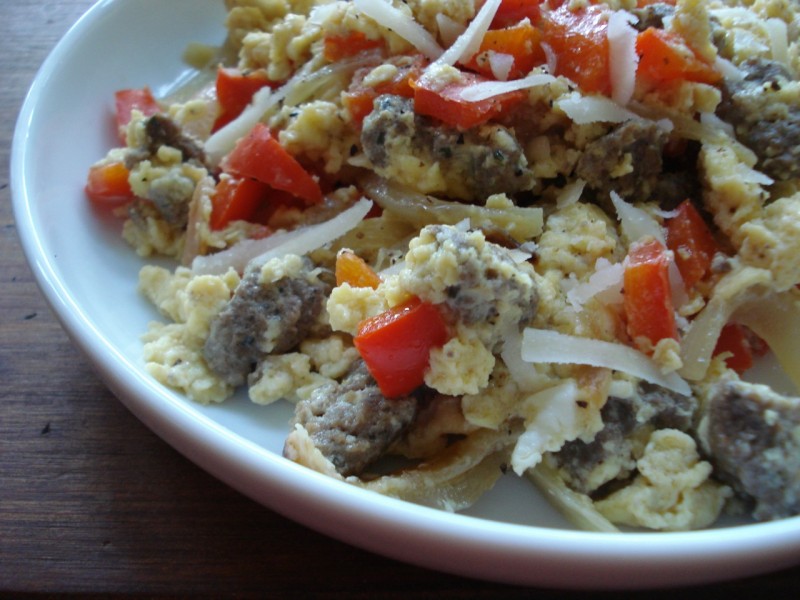 2 TBSP butter, ghee, or coconut oil
approx 12 oz high quality lamb sausage, removed from casing
1 medium onion, thinly sliced
1 bell pepper, diced
pure salt and pepper to taste
6 pastured eggs
freshly grated parmesan cheese (optional)
Heat the butter or oil in a large skillet over medium heat.
Add the sausage, and using a wooden spoon, break it apart in the pan as it cooks until it's browned (about 4 minutes).
Add the onion, bell pepper, salt and freshly ground black pepper to taste.
Stir to combine, then cover the pan until the vegetables are softened, about 10 mins.
Beat eggs in a separate bowl and sprinkle in a little salt and pepper.
When vegetables are soft, pour the eggs into the skillet and scramble for a few minutes until cooked through.
Serve immediately with some cheese over the top if desired.
Serves 3.
_________________________________________________________________________
 SIDE NOTES
~  We had this for dinner last night, but of course, it can be breakfast, brunch, or lunch just as easily.
Enjoy!
For those with various food restrictions
, this recipe falls into the following categories:
Dairy Free, Gluten Free, Egg Free, Nut Free, Sugar Free, Grain Free, Vegan, Raw
If eating dairy free, use coconut oil instead of butter and omit the parmesan cheese.