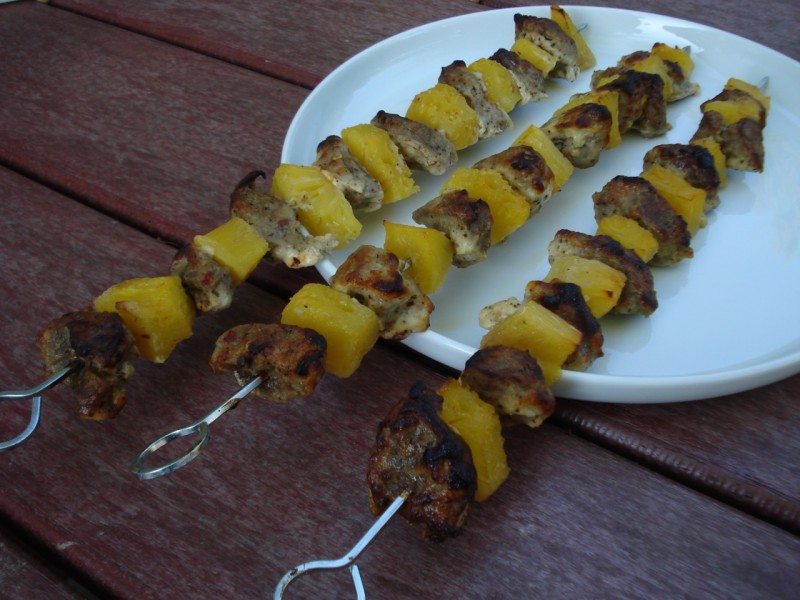 For the Kabobs:
1 & 1/2 lbs boneless lamb (shoulder or sirloin chops, or leg of lamb)
2 cans pineapple cubes
For the Marinade:
1 cup plain yogurt
3 garlic cloves crushed or minced
1/4 cup melted coconut oil
1/2 tsp pure salt
1 tsp ground black pepper
1 tsp red pepper flakes
8 – 24 hours in advance:
Cut the lamb into bite sized cubes and place in an 8 x 8 glass pyrex (or similar sized bowl).
Whisk all marinade ingredients together and pour over the lamb, tossing until well combined.
Cover and marinate in the refrigerator for 8 hours or overnight.
When you're ready to cook:
Preheat oven to 400 degrees.
Thread the meat and pineapple onto skewers and lay them on a parchment covered cookie sheet.
Bake 30 – 40 minutes (until done to your liking) turning the kabobs once halfway through.
Serves 4.
_________________________________________________________________________
SIDE NOTES

:

~  You can serve these kabobs with a dollop of plain yogurt on the side for dipping if you'd like (we liked).

~  Of course, you can add any number of vegetables to the kabobs as well — cherry tomatoes, zucchini, onions, bell pepper, mushrooms, (etc) which would eliminate the need for a side dish.

~  I did have a 4th kabob, but omitted it for the photo because it was all meat, as I ran out of pineapple and it didn't look as pretty (I thought the one can I had on hand would be enough).

We were all enamored by these kabobs — extremely delish and very easy to make.  Hope you enjoy them too!

 For those with various food restrictions

, this recipe falls into the following categories:

Dairy Free, Gluten Free, Egg Free, Nut Free, Sugar Free, Vegan, Grain Free, Raw

If eating dairy free, use a non-dairy yogurt.