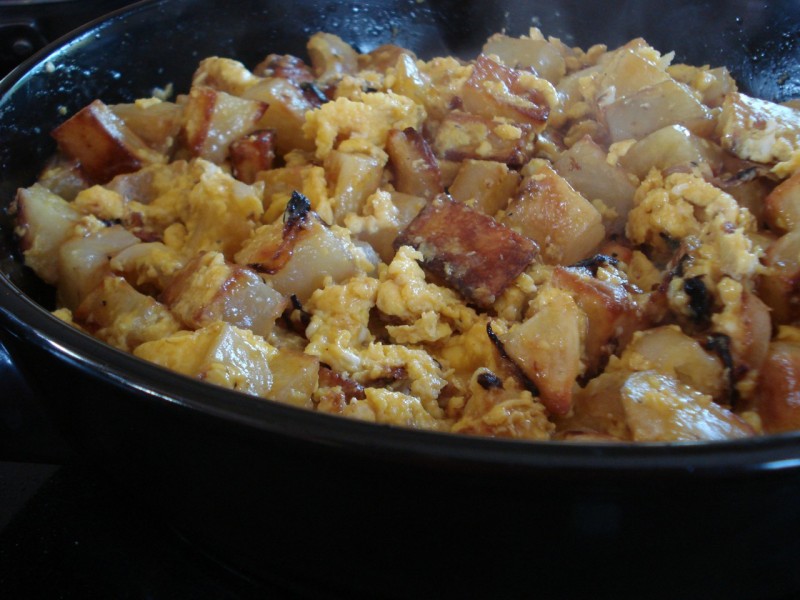 2 lbs potatoes
butter, ghee, or coconut oil
pure salt and freshly ground pepper to taste
1 onion
4 – 6 pastured eggs
Preheat oven to 400 degrees.
Peel potatoes, chop into bite-size chunks, and transfer to a bowl.
Melt a generous amount of ghee (or butter / coconut oil) over low heat, pour over potato chunks, and toss well to coat.
Spread potatoes in a single layer on a parchment paper covered baking sheet.
Sprinkle with salt and pepper to taste.
Bake until done to your liking (45 mins to 1 hour).
When potatoes are almost done, begin to heat some coconut oil in a saute pan.
Chop the onion and saute in the oil until beginning to brown.
Add crispy potatoes to the pan and toss to combine.
Crack the eggs into a separate bowl, sprinkle with salt & pepper, and scramble (with or without a little milk).
Pour eggs into saute pan with potatoes and onions and toss until the eggs are cooked through.
Serve immediately.
Serves 2 – 3.
_________________________________________________________________________________
SIDE NOTES

:

~  Back in the day, my father used to make this all the time w/ his buddies at firehouse 253 in Brooklyn (and of course for us too!).  Fugetaboutit.  True comfort food….

~  You can really use as much potato and as many eggs as you'd like depending on the level of heartiness of your eaters.  If you think 2 eggs per person is enough – so be it.

~  Technically, you can fry the potatoes stove top instead of roasting in the oven.  I just find the potatoes stick to the pan this way which is a little annoying.  Much easier for me cooking them separately in the oven, and then transferring the crispy potatoes to the saute pan — use whatever method appeals to you most.

~  I usually make this for dinner, but of course, it can work for any meal of the day.  It's simple and very satisfying.  Just get those potatoes in the oven about an hour before you want to eat & the rest is a piece of cake.  We usually eat this with a little puddle of high quality ketchup for dipping.  Enjoy  =)