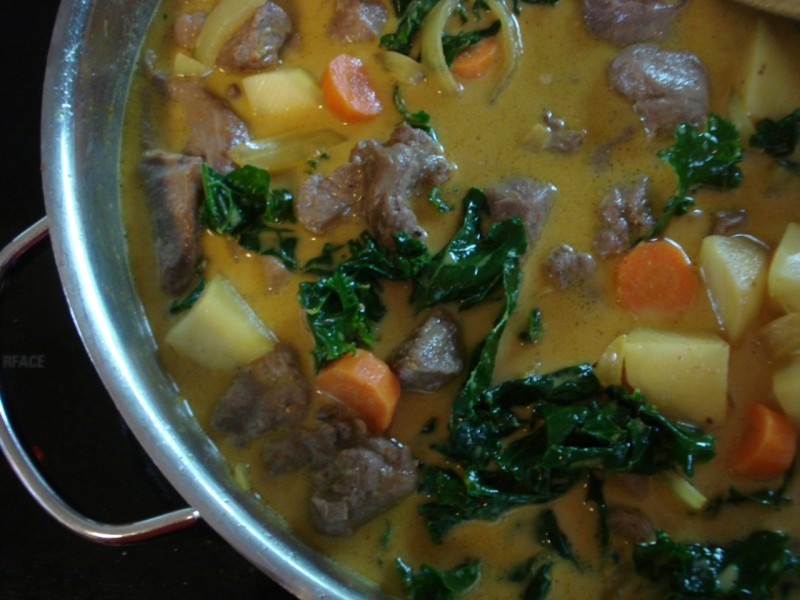 1 lamb shoulder roast, square-cut or rolled; or 1/2 leg of lamb roast, or 2 lbs lamb stew meat
pure salt and freshly ground black pepper to taste
3 TBSP coconut oil
2 medium onions, thinly sliced
2 tsp turmeric
3 medium boiling potatoes, peeled and roughly chopped
2 large carrots, cut into rounds
2 cans unsweetened coconut milk
1 & 1/2 cups water
4 TBSP red curry paste
4 TBSP tamari
5 TBSP natural sugar or 30 drops liquid stevia
4 oz kale, roughly chopped (optional)
Preheat oven to 300 degrees.
Bring the lamb to room temp (let sit out about an hour) and cut into stew chunks.
Heat the oil in a large (5 qt), ovenproof saute pan over medium heat, add the lamb and sprinkle with salt and pepper.
Brown the meat on all sides, about 3 mins per side, remove, and set aside.
Toss the onions into the oil, and saute until translucent.
Sprinkle onions with turmeric and saute 1 min longer.
Turn the heat to low and add the potatoes, carrots, and lamb.
Combine the coconut milk, water, curry paste, tamari, and sugar in a large measuring cup and pour into the saute pan.
Cover tightly, and roast in the oven for 3 – 4 hours, or until the meat is fork-tender.
When the stew is close to being done, add the kale and return to the oven for the remaining cook time (about 15 minutes longer).
_________________________________________________________________________
SIDE NOTES

:

~  This is outstanding!  I made some substantial changes to the original recipe which came from the Grassfed Gourmet.  Though the first time I made it, I shortened the cook time and the meat wasn't tender enough (I think I cooked it 90 mins that time).  So it's a good idea to plan to make this on a day you can do the prep work in the afternoon and just let it cook until dinner time (approx 3 hours).  It really needs to stew to reach its full potential!

~  Technically, you don't have to combine the sauce ingredients (coconut milk, etc…) in a separate bowl — that's just my personal preference.  You can put them directly into the saute pan one at a time if that works better for you.

Enjoy!