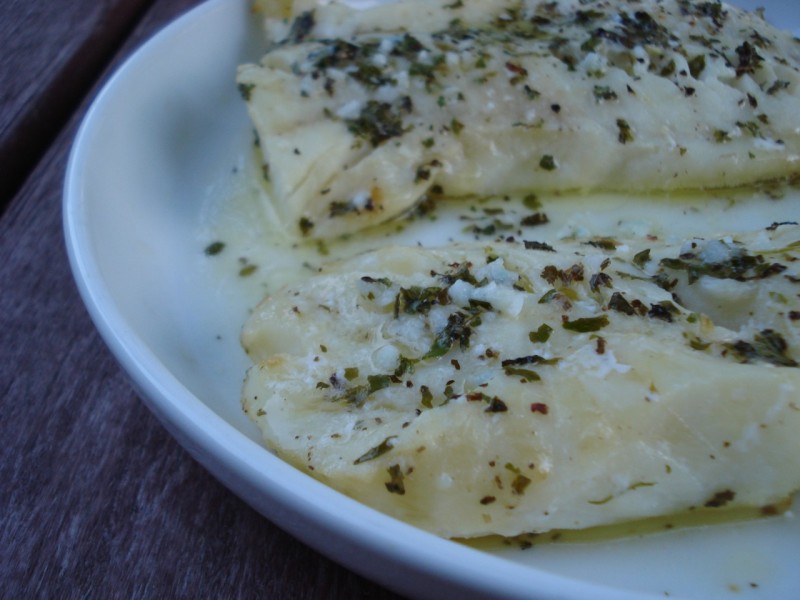 2 halibut fillets, about 6 to 8 ounces each
4 TBSP butter
2 large garlic cloves, crushed or finely minced
2 TBSP lemon juice
1/2 teaspoon dried leaf basil
1 tsp dried parsley (or 1/2 TBSP fresh)
pure salt and freshly ground pepper
lemon slices (optional)
fresh parsley leaves (optional)
Set broiler to high.
Place halibut fillets (skin side down if with skin) on buttered, broiler safe pan.
In a small saucepan, combine butter, garlic, lemon juice, and herbs.
Heat over low heat until butter is melted and garlic is softened, about 2 minutes.
Use roughly 1/2 of the butter mixture to spoon over each fillet and set the other half aside.
Sprinkle the fillets with salt and pepper.
Broil halibut for about 10 minutes (turning the fish once, halfway through), or until it flakes easily when tested with a fork (keep the remaining butter mixture over very low heat while fish is under the broiler to gently cook the garlic).
Drizzle the remaining butter sauce over the fish and garnish with parsley leaves and lemon slices, if desired.
Serves 2.
____________________________________________________________________________
SIDE NOTES

:

~  A very easy and delicious way to prepare any type of fish.  Enjoy!  =)