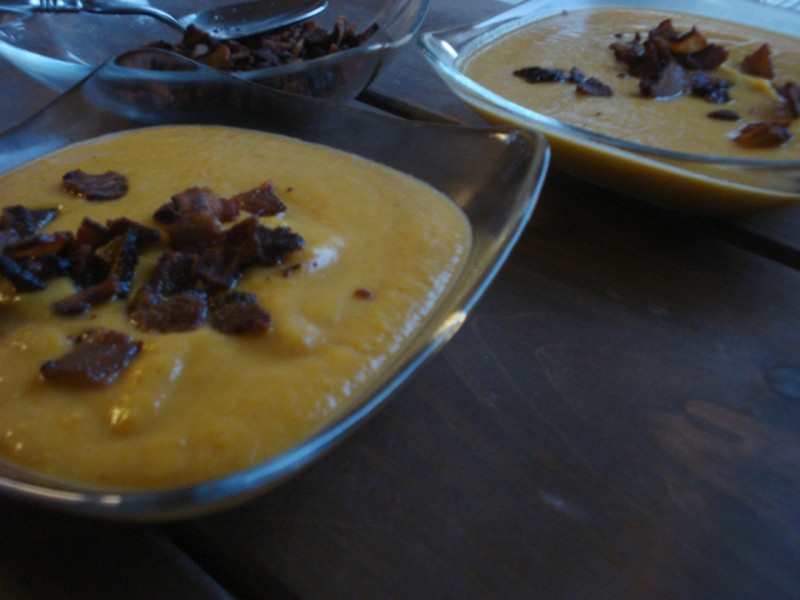 1 large butternut squash, peeled and cut into large chunks
3 large carrots, peeled and cut into chunks
1 – 2 TBSPS coconut oil, melted
1/2 pounds (give or take) raw bacon, chopped
1 small onion, chopped
1 small apple, chopped
2 cups chicken broth
1 cup whole milk
1 tsp pure salt
1 tsp cinnamon
1/2 tsp nutmeg
Preheat oven to 350.
Add the coconut oil to your roasting pan and set it in the oven for a few minutes while it's heating up (to melt the oil).
Add the squash and carrots to the roasting pan and toss to coat with oil.
Return to oven and roast uncovered for 35 minutes (or until veggies are tender).
In a large stock pot over medium heat, cook the diced bacon until crisp.
Remove bacon with a slotted spoon and set aside for the soup garnish.
Add the onion and apple to the stock pot and sauté in bacon fat over medium heat until tender, about 5 minutes.
Add the roasted butternut squash, carrots, broth, and milk, and bring to a boil stirring often.
Remove from heat.
Process with an immersion blender until smooth (or working in several small batches, blend in blender).
Bring the soup back up to a simmer and season with salt, cinnamon, and nutmeg.
Serve garnished with bacon.
________________________________________________________________________________
SIDE NOTES
~  A nice soup for Thanksgiving!
~  For video instructions on how to peel a butternut squash, click HERE.  I used to think it was difficult.  It's really not a big deal!  Of course, you can always resort to picking up the pre-peeled version if it's a deal breaker  =)
~  No need to be afraid of bacon (or bacon fat for that matter), provided we're talking about a pig who lived a normal pig life and was not feed an unnatural diet (and of course — no nitrates).  If you'd like, you can substitute a high quality turkey bacon, or if necessary, simply omit it altogether — sauteing the onion & apple in coconut oil or butter instead.
~  You can use coconut milk if avoiding dairy.
~  The original recipe called for tons more cinnamon and nutmeg (we actually found it inedible).  I cut it down by at least a third and it made all the difference in the world — Delicious soup.  The amount of seasoning really depends on the size of your squash.  If it's giant you might want more.  If it's very small, less.  Adapted from Caveman Feast.
~  Can be frozen for later use.
ENJOY!  =)