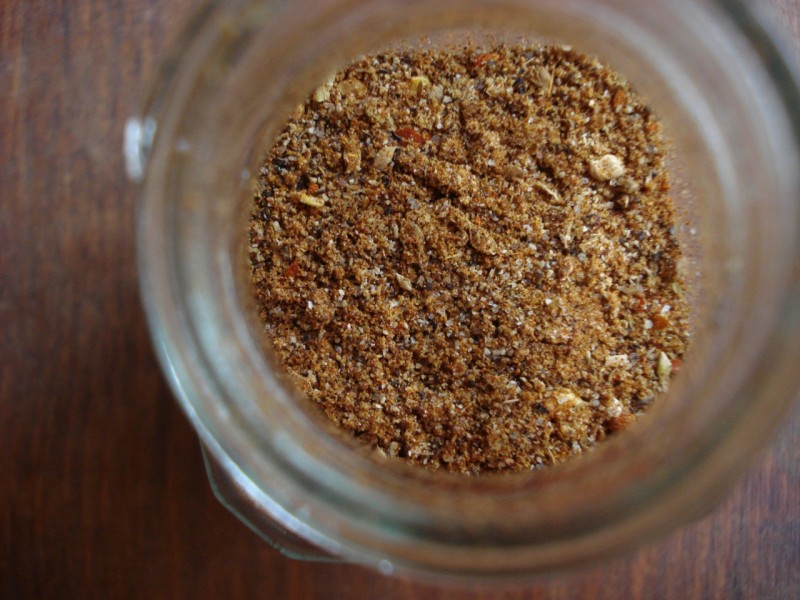 4 TBSP chili powder
2 TBSP ground cumin
4 tsps black pepper
3 tsps pure salt
1 tsp garlic powder
1 tsp onion powder
1 tsp crushed red pepper flakes
1 tsp dried oregano
1/2 tsp paprika
Combine all ingredients and store in a sealed container.
_____________________________________________________________________
SIDE NOTES

:

~  This is a great mix to keep on hand.  Simply saute ground beef with a some of this seasoning mix (about 2 tablespoons per pound of meat), and lay out a spread of shredded cheese, lettuce, diced tomato, guacamole, salsa, sour cream, rice if you'd like, and you're ready for a mexican feast with very little fuss!

~  Why not just keep those pre-made spice mixes on hand instead?  Compare the ingredients for your answer…..

OLD EL PASO pre-made Taco Seasoning Mix ingredients

:

Chili pepper, salt, maltodextrin, spice, onion powder, corn starch, yellow corn flour, partially hydrogenated soybean oil, silicon dioxide (anticaking agent), sunflower and/or cottonseed oil, natural flavor, ethoxyquin (preservative).

I prefer to take a few minutes to mix together my own high quality spices and keep that on hand for convenience — minus all the crud.