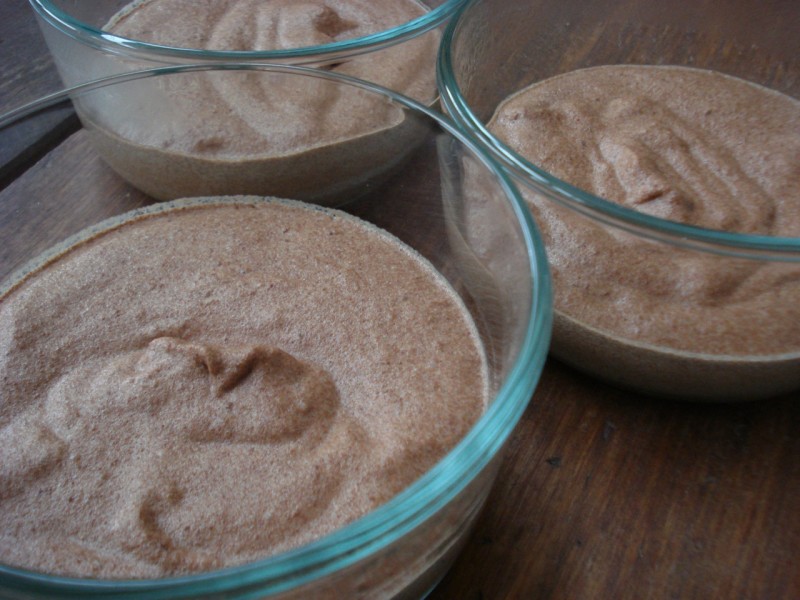 6 ounces semisweet or bittersweet chocolate, coarsely chopped or broken in pieces
4 TBSP butter
1 tsp pure vanilla extract
2 TBSP strong coffee (brewed) —OR— 4 tsps light rum or brandy
4 large eggs, separated
2 TBSP natural sugar
1/2 cup heavy cream
Melt chocolate in a double boiler (or simulated double boiler – see below).
Whisk butter into melted chocolate, 1 TBSP at a time.
Stir in salt, vanilla and coffee (or rum/brandy) until completely incorporated.
Whisk in yolks one at a time, making sure that each is fully incorporated before adding the next.
Set chocolate mixture aside.
Stir egg whites in a clean mixing bowl set over saucepan of hot water until slightly warm — 1 to 2 mins.
Remove bowl from saucepan and beat with electric mixer set at medium speed until soft peaks form.
Raise mixer speed to high and slowly add sugar, again, beating to soft peaks.
Whisk a quarter of the beaten whites into chocolate mixture to lighten it, then gently fold in remaining whites.
Whip cream to soft peaks and gently fold into mousse.
Spoon portions of mousse into six to eight individual serving dishes or goblets; cover and refrigerate for at least 2 hours (and up to 24 hours).
Serve with additional whipped cream if desired.
_____________________________________________________________________
SIDE NOTES:
~  You don't necessarily need an "official" double boiler to make this (personally, I don't have one).  You just need a small pot of boiling water on the bottom, and a larger pot that will sit securely on top (in which you would place the chocolate).  Of course, since the pots are not "locked" together the way a real double boiler would be, please be careful that the pot on top doesn't tip.
~  After 24 hours of refrigeration, the flavor and texture will begin to deteriorate, so it's best to consume within that time period.
~  Personally, I'm not a big chocolate fan, so can really take or leave desserts like this, but I had never tried to make mousse before and wanted to give it a go.  The kids (of course) really liked it  =)
~  Use a gluten free vanilla extract if necessary to keep this recipe gluten free.
~  Adapted from "The Best Recipe" cookbook.
Beaten egg whites: