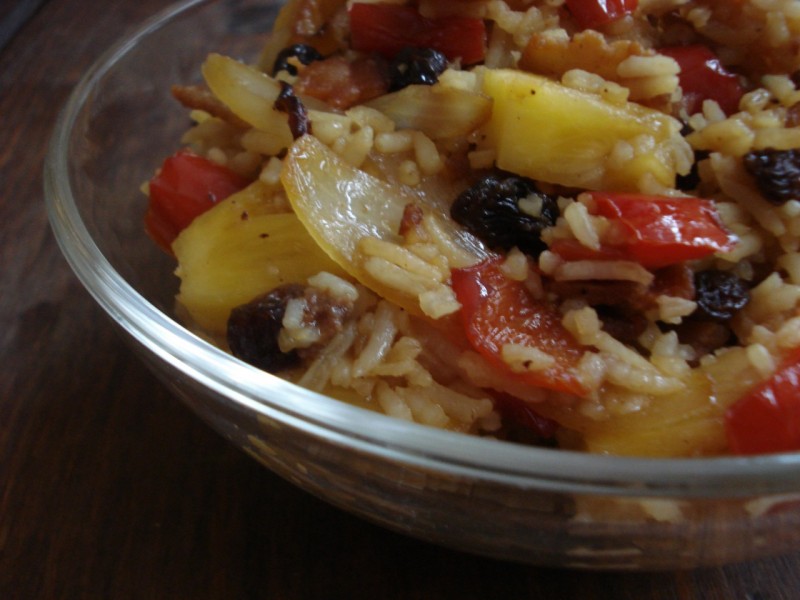 1 lb chorizo, casing removed (optional)
1 medium onion, chopped
1 bell pepper, diced (about 1 cup)
1 large clove garlic, minced or crushed
1 TBSP coconut oil (not necessary to add oil if you're using a meat product)
2 TBSP tamari
2 cups uncooked rice (cooked and then cooled if possible)
2 cans (14 ounces each) pineapple chunks
1/4 cup (about 2 oz) raisins
4 eggs, scrambled in a separate pan (can omit if including meat)
Cook rice ahead of time (if possible) and let cool to room temp (or can refrigerate).
In large saute pan (5 qt works well) on medium heat, saute the chorizo until cooked through (simply crumble the chorizo with the edge of a wooden spoon to break apart as sauteing).
Remove meat from pan with a slotted spoon and set aside.
In the same pan, saute the onions and peppers until lightly browned (use coconut oil if you have not used a meat product).
Add the crushed garlic and cook a few minutes longer.
Add the tamari, cooked rice, pineapple (with all its juice), raisins, and cooked meat if using.
Mix thoroughly and cook for 6-8 mins or until all ingredients are heated throughout.
If including egg…In a separate pan, scramble the egg, roughly chop, and add to rice mixture.
Serves 6.
_____________________________________________________________________
SIDE NOTES

:

~  Chorizo is a delicious, spicy sausage.  It's most typically made of pork, but one of my local farms offers goat chorizo which is what I use.

~  We absolutely love this dish.  It's been in regular rotation for quite a while now.  The chorizo adds a really nice kick which is a good contrast from the sweet pineapple & raisins.

~  You can easily substitute a high quality (nitrate-free) bacon for the chorizo.  The dish will lose it's spiciness, but for many, the flavor of bacon makes up for it enough  =)

~  You can use freshly cooked (hot) rice if you need to.  Sometimes that's the way it works out for me if I forget to start it ahead of time.  The reason cold or room temp rice works better is because it's not as starchy/sticky after it's cooled.  But you won't ruin the meal if using hot rice.

~  I use either egg or meat (depending on what I have on hand), but you can include both if you'd like.  The dish will be more kid friendly using bacon and/or egg (unless your kids like spicy in which case the chorizo will hit the spot quite nicely!).

~  I've been on a chorizo kick the past year so will post more recipes on ways to use it moving forward…

~  If eating vegan (which as a nutritionist, I don't recommend), omit both the meat and egg and substitute a suitable protein.

Enjoy!  =)