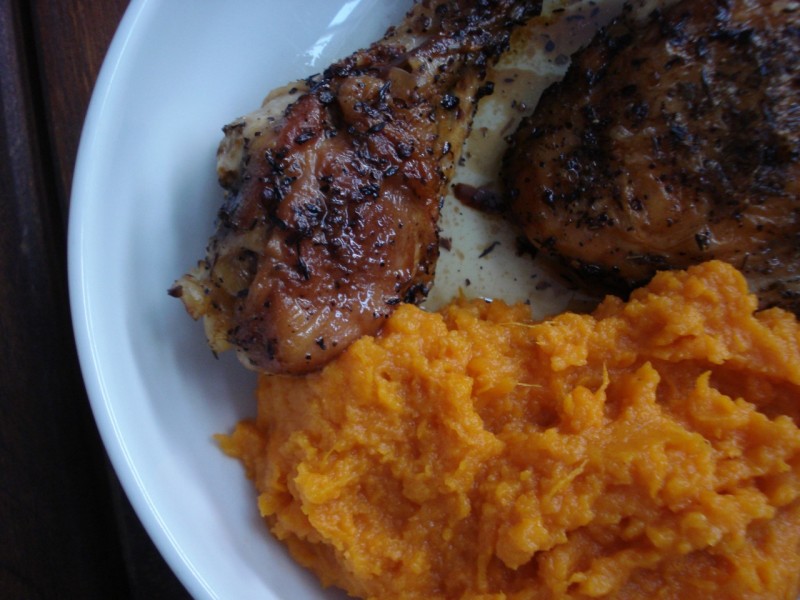 about 3 pounds sweet potatoes
1/4 cup whole milk or cream
2 TBSPs butter
2 TBSPs pure maple syrup
1/4 tsp pure salt
sprinkle of cinnamon (to taste)
Bake the potatoes as you would if you were making baked potatoes (wash, prick with fork, and bake for 45 – 60 minutes at 400 degrees).
When done, remove from oven and let cool off enough to handle.
Meanwhile, add the remaining ingredients to a bowl large enough to eventually hold the potatoes.
Peel off and discard the potato skin (simply pull it off with your fingers – it will be a little "baggy" after the potatoes have cooled so this will be easy).
Add sweet potato flesh to the bowl holding the remaining ingredients and mash with a potato masher until well combined.
Serves 4 to 6.
_______________________________________________________________________
SIDE NOTES

:
~  Sweet potatoes are amazing, simply baked with a pat of butter & sprinkle of salt, but if you have a few extra minutes and are in the mood, this mash is delicious and very easy to prepare.
~  Some suggest peeling and either boiling or steaming the potatoes before mashing, but I prefer to bake them (which in my opinion, yields the best flavor).  Of course, use whichever method you prefer.
~  If you'd like, you can add the cream (or milk) after you've already mashed.  This way, you can adjust the amount of liquid to yield the consistency you prefer.
Enjoy!  =)