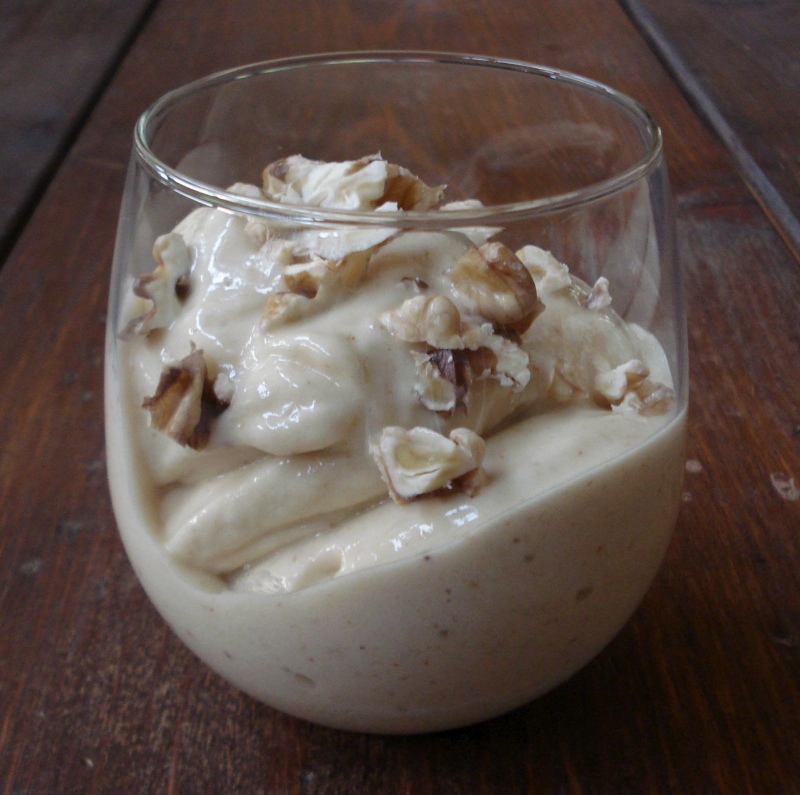 For four servings:
4 large bananas, sliced & frozen
1/2 cup milk of choice
Cut bananas into rounds and place in single layer on a wax (or parchment) paper covered cookie sheet.
Put cookie sheet in freezer for several hours or overnight.
Vitamix blender method

:
Place frozen bananas in blender, add milk, and blend on high, using the tamper to continually push banana chunks into the blade area.
Within 1 minute, you'll have creamy ice cream. Blender will be loud as it's doing it's thing, but this is normal.
Food processor method

:
Make sure work bowl is fitted with steel S blade.
Add banana chunks and start processing.
While the machine is running, slowly drizzle in the milk.
You'll need to stop the food processor several times to reposition the banana chunks (they often end up stuck and sitting on top of the blades).
Within 5 to 10 minutes, you should have creamy ice cream.
___________________________________________________________
Make a caribbean version by adding pineapple (frozen or fresh) (or pineapple juice instead of milk), unsweetened shredded coconut (or a few dollops of coconut butter) and/or coconut milk.
Make peanut butter ice cream by adding about 1/4 cup of natural peanut butter (may need to add a little extra milk)
Make strawberry ice cream by adding a handful of fresh or frozen strawberries.
Make chocolate ice cream by adding a handful of high quality chocolate chips/nibs or cocoa powder
Maple pecan ice cream? Peach ice cream? You get the idea – add anything you want. Keep in mind however, whatever you add has to be in addition to the bananas, as the bananas are what makes this ice cream ice cream! The liquid component is essential as well. After that, use your imagination =)
________________________________________________________________________
SIDE NOTES

:

~ You will absolutely not believe how creamy and delicious this is. It is jaw dropping considering how easy & healthy it is. Who needs all the corn syrup, liquid sugar, carrageenan, milk fat, partially hydrogenated soybean oil, guar gum….etc. Who even needs an ice cream maker! Once your bananas are frozen, this takes only one measly minute to make in the Vitamix (or a bit longer if using a food processor).

~ If there's no room for a big cookie tray in your freezer, you can use one of those small trays for the toaster oven, or a large plate. If you run out of room, lay down another piece of wax paper over the top & keep making as many layers as you need.

~ If you're not using the frozen bananas right away, or want to freeze a whole bunch extra for future use, once frozen, transfer to a freezer bag. Alternately, you can skip the tray part & just dump the banana rounds directly into a ziplock freezer bag if you don't mind fighting a little (or a lot) to unstick them from each other. They should last a few months in the freezer without getting freezer burn (their color may change, but they should taste fine).

~ Use ripe bananas! If they have any green on them, the ice cream won't taste good. Even when I've used bananas that were all yellow (no green or brown), it didn't taste quite as good as it had in the past. SPECKLED BANANAS ARE BEST!! Also, they must be thoroughly frozen or the ice cream won't turn out.

~ If your bananas are small, use less milk. You want to be careful not to use too much liquid or it will end up more like a shake (though worse things could happen in this world). My rule of thumb when pulling banana chunks out of my freezer to make this ice cream – 15 chunks equals 1 large banana. The most I ever make at one time in my large Vitamix container is 4 servings (which would be 60 banana chunks and 1/2 cup of milk).

~ This ice cream is best eaten right away, so try not to make more than you'll want. If you do end up with extra (this is hard to do!), you can freeze it, but let it thaw before you eat. (What you see in the photo is this recipe cut in half – 2 bananas worth. My daughter & I shared it & it was PLENTY.)

~ For the liquid, I've used coconut milk, almond milk, raw milk, pineapple juice, and [cold] coffee with great results.

For those with various food restrictions

, this recipe falls into the following categories:

Dairy Free, Gluten Free, Egg Free, Vegan, Nut Free, Sugar Free, Grain Free, Raw

If avoiding milk products, use coconut milk, pineapple juice, or another dairy free option.  If eating raw, simply use raw cow milk or other raw, homemade milk (almond, hemp, coconut, etc…).

~ Some topping suggestions…. chopped walnuts, almonds or cashews, shredded coconut, granola, fresh berries, a dollop of natural peanut butter, natural chocolate chips, a sprinkle of nutmeg, cinnamon or ginger, mashed up cookies…!  Shown below with CARAMEL-SAUCE and SHORTBREAD-CRUST sprinkled over the top.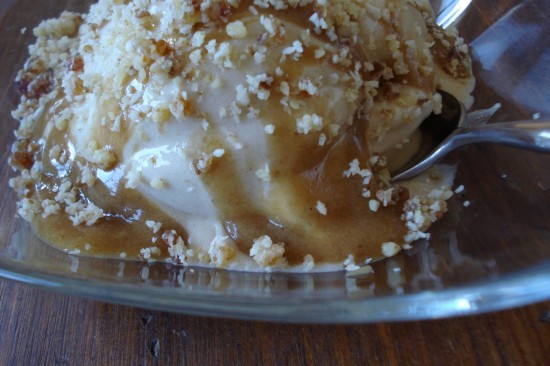 ~ If you're considering buying a Vitamix blender, you will not be sorry. This tool is a great investment & this ice cream will be even easier to make. My distributor code is 06-004158. Use it to receive free shipping (& this gives me credit for the referral) (thx!) You do have a 30 day money back guarantee, so it's easy to test out without obligation. That little cushion is what pushed me over the edge years ago.