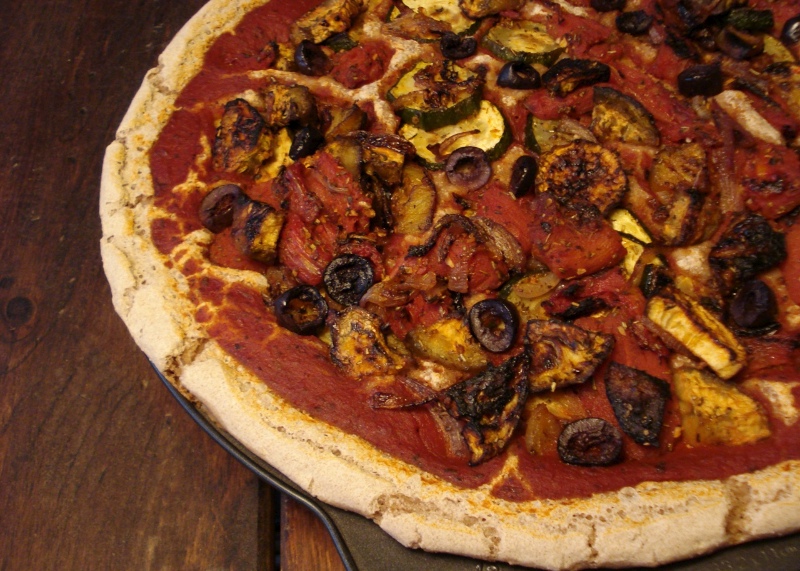 1 recipe CHEWY-PIZZA-DOUGH
1 28 oz package peeled whole tomatoes
1 small eggplant, peeled, quartered & cut into 1/2 inch thick slices (about 2 cups)
2 small green or yellow zucchini sliced into rounds (about 2 cups)
1/2 large red onion, thinly sliced (about 1 cup)
2 TBSP extra virgin olive oil
3 cloves garlic, minced (about 1 TBSP)
1 TBSP herbes de Provence (or herb mixture of choice)
1/2 cup high quality pizza sauce
1/4 cup black olives or capers (optional)
Preheat oven to 450.
Drain tomatoes & discard liquid.
Halve each tomato lengthwise.
Toss together tomatoes, eggplant, squash, red onion, oil, garlic, & herbes de Provence in a large bowl, then transfer to large pyrex dish or baking sheet.
Roast veggies 25 mins, or until beginning to brown, tossing every 5 – 10 mins.
Cool 5 – 10 mins, or store in fridge up to 3 days.
Meanwhile, prepare chewy pizza dough & spread on pizza pan (don't forget to brush the pan with oil first).
Spread sauce, and then roasted veggies on raw dough.
Sprinkle with olives or capers if using.
Place on middle rack in oven, and preheat oven to 350 with pizza in oven (do not preheat ahead of time).
Once oven reaches 350, bake 25-30 mins longer or until it looks good.
______________________________________________________________________________________
SIDE NOTES

:

~ From Vegetarian Times Magazine. Any crust you like will do, and similarly, substitute any veggies you'd like. The crust looks different in this picture than it did for the SALAD-PIZZA, but it is the same. Brushing the crust with balsamic vinaigrette (as well as sprinkling with parm), as was done for the salad pizza, gives it a different appearance & texture. Can use a sugar free crust if avoiding sugar.

~ Herbs de Provence can be found in the spice aisle and is simply a mixture of several different herbs (usually some combination of basil, rosemary, sage, thyme, marjoram, savory, tarragon, oregano & fennel seeds). You can use your own mixture if you'd like.

~ If you're roasting the veggies directly before making the pizza, remember to cool down the oven before putting pizza in, as the pizza is supposed to go into a room temp oven & brought to 350 slowly.

~ One could forget that cheese & pepperoni exist eating a pizza like this…..Seriously!

 For those with various food restrictions

, this recipe falls into the following categories:

Dairy Free, Gluten Free, Egg Free, Nut Free, Sugar Free, Grain Free, Vegan, Raw

If eating gluten and/or sugar free, be sure to check labels of any packaged products (such as tomato sauce, olives…etc).  If eating sugar free, use a different (sugar free) crust.