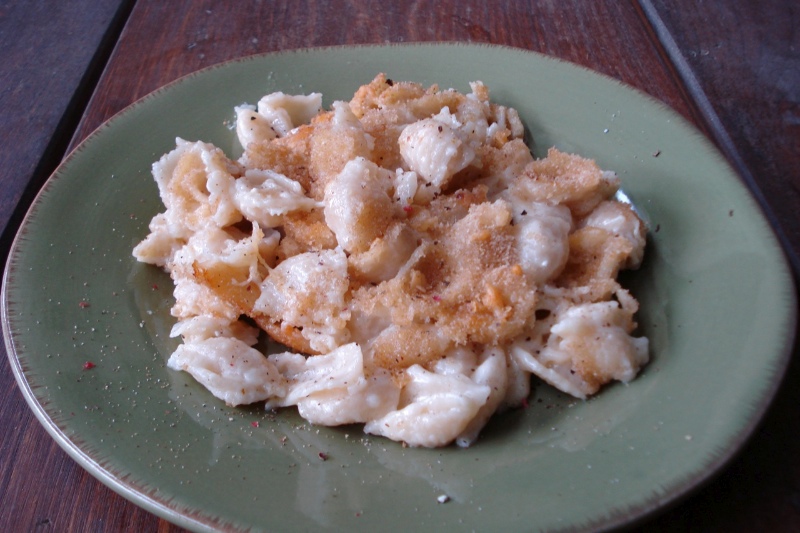 5 & 1/2 TBSP butter
1 cup whole milk, half & half, or heavy cream
8 oz sharp cheddar cheese (or whatever type of cheese you prefer)
1 tsp pure salt
1 pound small shells (or other small pasta shape)
pinch of ground nutmeg
1/2 tsp ground mustard (optional)
1/2 tsp cayenne pepper (optional)
1/3 cup plain bread crumbs
1/4 cup grated Parmigiano-Reggiano cheese (or regular parmesan)
Preheat oven to 400 degrees.
Use 1/2 TBSP of the butter to grease a 9×13 inch baking dish & set aside.
Dice 4 TBSP of the butter & place in a large bowl (big enough to fit the pasta).
Pour the milk into a small saucepan & heat (but do not boil).
Cover, remove from heat & keep warm.
Shred the cheese (you should have about 2 cups) & set aside.
When the water comes to a boil, add 1 TBSP salt and the shells.
Cook until they are 1 – 2 mins shy of al dente & then drain (for Tinkyada brown rice small shells, this is about 6 mins).
Stir the shells into the bowl w/ the butter, tossing to coat well.
Stir in the warm milk & cheese and stir until the cheese starts to melt.
Mix in 1 tsp salt, the nutmeg (and ground mustard / cayenne if using).
Pour mixture into the baking dish.
Combine the bread crumbs & Parmigiano-Reggiano and sprinkle evenly over the pasta.
Dice the remaining 1 TBSP butter & dot the crumb topping with small pieces of butter.
Bake until the cheese sauce is bubbling & the topping turns golden brown, about 20 mins.
Serve immediately.
______________________________________________________________________________________
SIDE NOTES

:

~ Adapted from "The Complete Italian Vegetarian Cookbook"

~  I sometimes double the recipe (using two 9 x 13 baking dishes), and put one whole tray in the freezer.  Comes in really handy on a night when all I can do is pull something out of the freezer & stick it in the oven to warm. Pyrex makes 9 x 13 glass baking dishes with snap on lids.  Perfect for something like this.  They come in all sizes actually, and I highly recommend having a variety of them on hand for freezing all kinds of left overs.

~ There's no faking mac & cheese. Real butter, real milk & real cheese are requirements! I've tried a lot of mac & cheese recipes over the years & was never satisfied until this one.

~ FYI – The original recipe calls for fontina cheese in case you'd like to give that a go. I've used mild cheddar, sharp cheddar and fontanella which have all tasted great.

~ Parmigiano-Reggiano is the king of parmesan cheese. You can usually get it at the regular grocery store, though it's on the pricey side. If interested, you can buy organic Parmigiano-Reggiano online. If you have extra, cut it into small blocks & freeze. This way, you can just take out a small portion to defrost & grate as needed (it tends to dry out if you grate it first and then freeze). Of course, any type of parmesan you have on hand will work.

~ It's extremely easy to make your own bread crumbs at home. Just dry out 2 slices of bread in the oven, break apart into blender, and process. For more detailed instructions, click HERE.

~  Of course only use the mustard & cayenne if you like your mac & cheese with a good kick  =)

 For those with various food restrictions

, this recipe falls into the following categories:

Dairy Free, Gluten Free, Egg Free, Nut Free, Sugar Free, Grain Free, Vegan, Raw

If eating gluten free, use an appropriate pasta (brown rice pasta is our personal preference), and bread crumbs ("Gillians" brand makes a GF version or make your own).