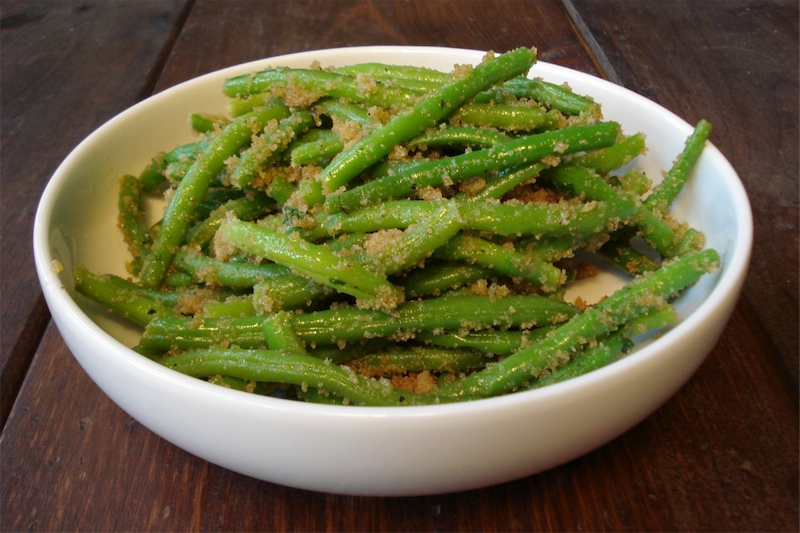 For the Green Beans
1 pound green beans
1 TBSP extra virgin olive oil
2 TBSP butter, ghee, or coconut oil
1 garlic clove, crushed
2/3 cup bread crumbs (can use gluten free)
1 TBSP chopped fresh parsley
For the Dressing
2 TBSP extra virgin olive oil
2 tsp white wine vinegar
1 small garlic clove, crushed
1/4 tsp high-quality, dijon mustard
pinch of sugar (or 1 drop liquid stevia)
pinch of pure salt
Trim beans & cook in boiling salted water 5 or 6 mins, until tender.
Drain & refresh under cold water & place in serving bowl.
Mix all the dressing ingredients thoroughly.
Pour over beans, toss & set aside.
Heat oil & butter & fry garlic for 1 min.
Stir in breadcrumbs & fry over medium heat 3 – 4 mins until golden, stirring frequently.
Remove pan from heat & stir in parsley.
Sprinkle breadcrumb mixture over beans & toss.
Serve warm, cold or at room temp.
______________________________________________________________________________________
SIDE NOTES

:

~ Adapted from "The Inspired Vegetarian"

~ I cut off just the very ends of the beans, but don't cut them in half (as the inside of the beans tend to slip out during the boiling process when cut that way).

~ Make sure the beans are drained thoroughly before adding the dressing so the flavors don't get diluted.

~ My heaping 1/4 tsp of mustard might be closer to 1/2 tsp.

~ You can buy whole grain bread crumbs if interested, or make them yourself by toasting a few slices of whole grain bread, chopping up & throwing in your food processor. Click HERE for more detailed instructions.

 For those with various food restrictions

, this recipe falls into the following categories:

Dairy Free, Gluten Free, Egg Free, Nut Free, Sugar Free, Grain Free, Vegan, Raw

If you're eating gluten free, be sure to use gluten free bread crumbs. If eating dairy free, use coconut oil instead of butter.  If eating sugar free, use stevia or lakanto instead of sugar.