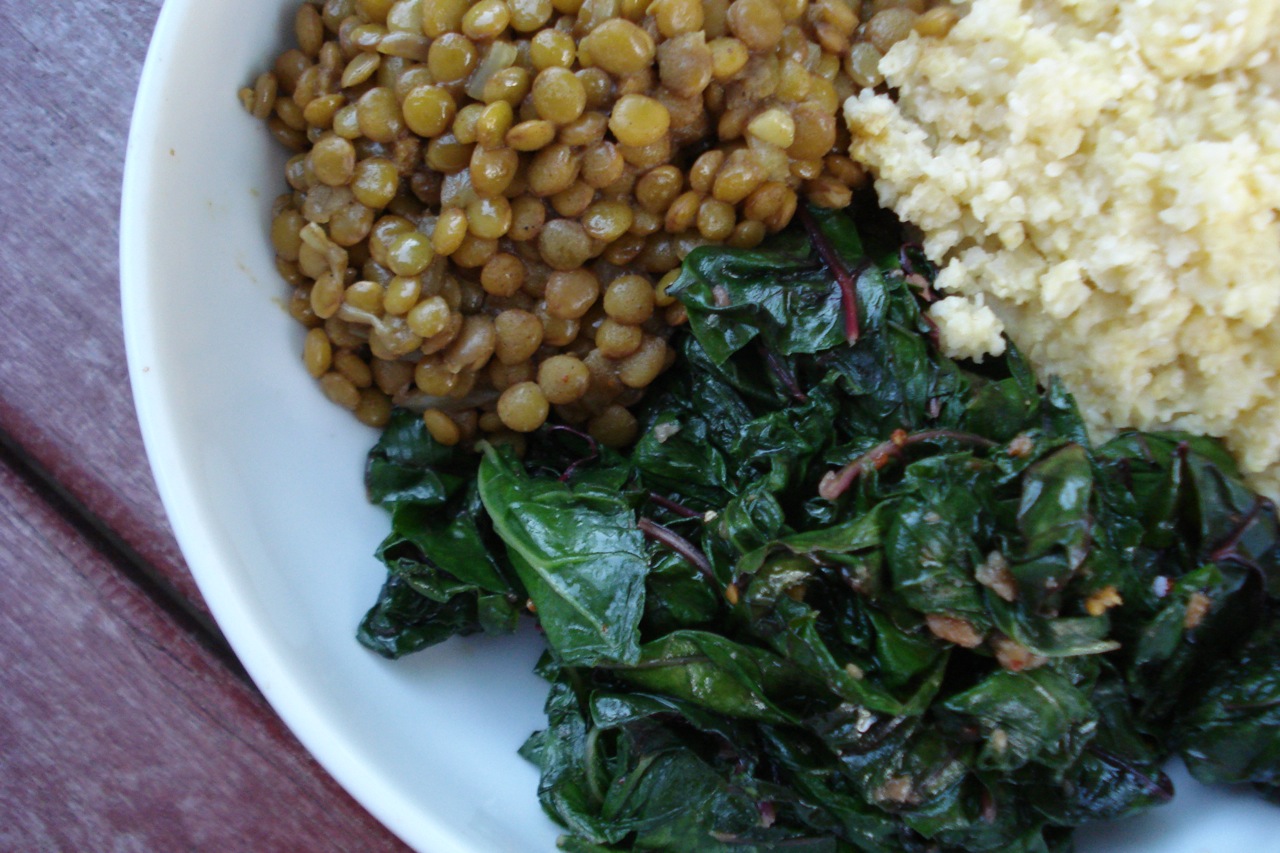 1 TBSP butter, ghee, or coconut oil
1 large yellow onion, finely chopped
2 garlic cloves, minced or crushed
1 tsp curry powder
1/2 tsp ground cardamom
1/2 tsp ground cinnamon
1/ tsp ground cumin
1/8 tsp cayenne
1 & 1/2 cups water
1 cup brown lentils
1 tsp pure salt
Heat the oil in a medium saucepan over medium heat.
Add the onion & garlic, cover, & cook until softened, 5 mins.
Uncover, stir in the curry powder, cardamom, cinnamon, cumin & cayenne & cook just a few minutes longer, stirring to coat the onion & garlic w/ the spices.
Stir in the water, lentils, & salt & bring to a boil.
Reduce heat, cover & simmer until the lentils are tender & most of the liquid has evaporated – about 30 – 45 mins.
Serves 3.
______________________________________________________________________________________
SIDE NOTES

:

~ Adapted from "Vegan Fire & Spice"

~  This dish is tasty with INDIAN-SPICED-BASMATI-RICE, and (as shown above) with SESAME-MILLET and  QUICK-&-SPICY-SWISS-CHARD.

~ Can double the cayenne if you'd like it extra spicy (as the original recipe calls for 1/4 tsp). 1/8 tsp had a little heat to it, but not so much that the kids couldn't enjoy it. They not only wanted seconds, but thirds & fourths too! They love the dal at our local Indian restaurant, but said this recipe wins & it's become an instant family favorite.

~ If you cook it for about 30 mins, it will be juicier. Closer to 45 mins & most of the liquid will be absorbed. Either way is good – up to you.

 For those with various food restrictions

, this recipe falls into the following categories:

Dairy Free, Gluten Free, Egg Free, Nut Free, Sugar Free, Grain Free, Vegan, Raw

If eating dairy free, use coconut oil instead of butter.

~  For those who like to soak their beans ahead of time, you can soak the lentils for 4 – 7 hours in warm water with 1 TBSP apple cider vinegar, lemon juice or whey (then proceed with recipe as stated). Though, of all the dried legumes, the soaking step is least important with lentils.

~ The original recipe calls for 1/2 cup plain yogurt to be stirred in @ the end. I intended to try it first time I made this, but when I tasted it just prior, it was so good, I didn't want to change the flavor at all, so skipped it. We've continued to enjoy it w/o the yogurt ever since (but wanted to mention it in case this variation sounds good to you).