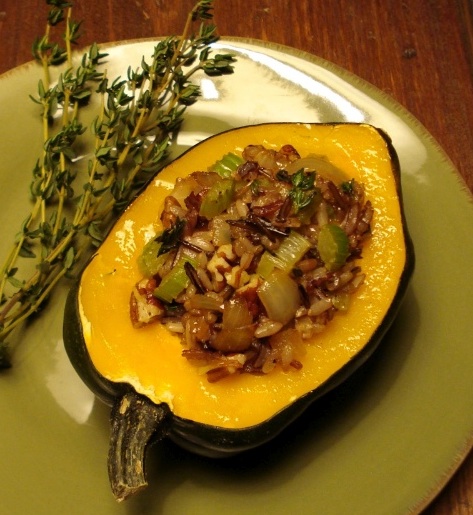 3 medium acorn squash, halved lengthwise and seeds removed
2 to 3 TBSP melted butter, ghee, or coconut oil
1/2 medium onion, diced
2 medium garlic cloves (or shallots), finely chopped
4 celery stalks, finely chopped
1 TBSP minced fresh thyme leaves (or use 1 tsp dried dried)
2 cups cooked wild rice
2/3 cup pecans, toasted* and chopped (optional)
1/4 cup dried cranberries, (optional)
1 tsp pure salt
freshly ground black pepper
Preheat oven to 350.
Place squash cut side down, in a baking pan filled with 1/4 inch hot water.
Bake 30 mins.
Meanwhile, place 1 tablespoon of the melted butter (or oil) in a large skillet over medium heat.
Add the onion, garlic (or shallots), and celery, season with salt and freshly ground black pepper, and stir to coat.
Cook, stirring occasionally, until just softened, about 6 minutes.
Stir in thyme and cook until just fragrant, about 1 minute.
Remove from heat and stir in the rice, pecans, cranberries (if using), salt, and pepper.
Drain water from squash pan, turn squash over, and divide the rice filling among the squash halves.
Drizzle the remaining tablespoon of butter (or oil) over top.
Return pan to oven, and continue roasting until the squash is completely fork tender, the edges have started to brown, and the filling is heated through, about 20 to 25 minutes.
______________________________________________________________________________________
SIDE NOTES

:

~ Adapted from chow.com

~ To toast the pecans, add to dry skillet over medium low heat, and cook, stirring constantly for a few minutes until aromatic (they burn easily so watch them carefully). Remove from pan immediately to cool.

~ I like "Lundberg Wild Rice Blend" (1 cup uncooked makes approx 2 cups cooked)

~ When you drizzle the melted butter over the squash filling, it's extra good if you also brush some on the exposed squash area (can just use the back of a spoon to spread it). Keeps the squash nice & moist as it bakes.

~ Another way to make a tasty stuffed squash (maybe more kid friendly if your little ones don't like onions, celery…etc) is as follows….. After the squash bakes face down in water for 30 mins, drain water, turn squash over, scoop out the flesh of the squash and place in a separate bowl. Mash the squash flesh with melted butter (or oil), cinnamon, sea salt and nutmeg. Fill hollowed squash halves with squash mixture, return to oven, and bake for another 20 – 30 mins, until done. Adjust seasoning to taste. Also, see APPLE-STUFFED-ACORN-SQUASH for a sweeter version of stuffed squash.

 For those with various food restrictions

, this recipe falls into the following categories:

Dairy Free, Gluten Free, Egg Free, Nut Free, Sugar Free, Grain Free, Vegan, Raw

If eating dairy free, use coconut oil instead of butter.  If avoiding nuts, omit the pecans (can substitute sunflower seeds if desired).  If eating sugar free, omit the dried cranberries.