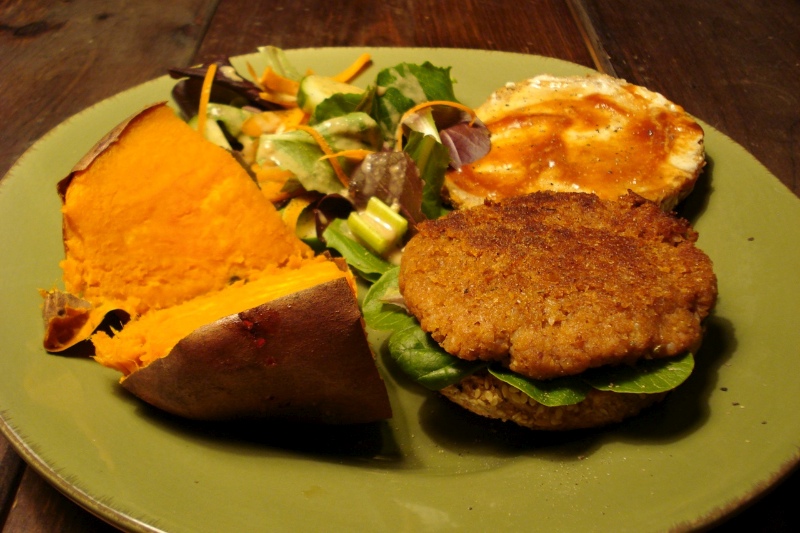 1 & 1/2 TBSP coconut oil
1 & 1/2 cups red onion, roughly chopped
1 cup celery, chopped
3 large garlic cloves, finely chopped (or pressed)
1/4 tsp pure salt
freshly ground black pepper to taste
2 cups cooked short grain brown rice
1 can adzuki beans (or black beans)
2 & 1/2 TBSP high quality ketchup (no HFCS !)
2 TBSP good quality BBQ sauce
1 & 1/2 tsp dijon style mustard
1 & 1/2 tsp fresh rosemary, finely chopped
3/4 tsp pure salt
1 & 1/2 cups whole grain breadcrumbs
2 TBSP coconut oil (for frying)
Heat the oil In a skillet over medium heat.
Add the onion, celery, garlic, sea salt, & pepper.
Cook for 6-8 mins, stirring occasionally, until onions & celery start to soften.
In a food processor, combine the onion mixture with the remaining ingredients (except the breadcrumbs & frying oil) & puree gently, pulsing to combine but leaving some texture.
Add the breadcrumbs and pulse again a couple of times to combine.
Transfer mixture to a bowl & stir through to fully work in breadcrumbs.
Refrigerate for at least 1/2 hour (chilling will make it firmer & easier to form).
Take scoops of the mixture & form into patties with your hands.
In the same skillet, heat the oil & add the patties in batches.
Fry for 6-9 mins on each side, until golden & a crust has developed.
Flip them over only once or twice (the second side will cook faster than the first).
______________________________________________________________________________________
SIDE NOTES

:

~ Adapted from "Vive le Vegan".  Makes 9 – 11 patties depending on how big you make them. As leftovers, the kids love this burger @ room temp as a school lunch. Last batch I made, I froze the extra patties for future, easy, school lunches. They're great with a little homemade mayo & bbq sauce.

~ Short grain brown rice works well in this recipe because it's on the sticky side & helps to hold the patties together. If you aren't using left overs, make sure you prepare your rice a little ahead of time as it needs to cook for an hour. Also, keep in mind you want to chill the pureed mixture before you make the patties, so starting this a little earlier in the day is best.

~ If you don't have fresh rosemary, use 1/2 tsp dried.

 For those with various food restrictions

, this recipe falls into the following categories:

Dairy Free, Gluten Free, Egg Free, Nut Free, Sugar Free, Grain Free, Vegan, Raw

If you're eating gluten free, be sure to choose your packaged ingredients carefully (ketchup, BBQ sauce, bread crumbs, beans, mustard).  If eating sugar free, choose a ketchup and BBQ sauce made with xylitol (my personal recipe for BBQ-SAUCE is sugar free).