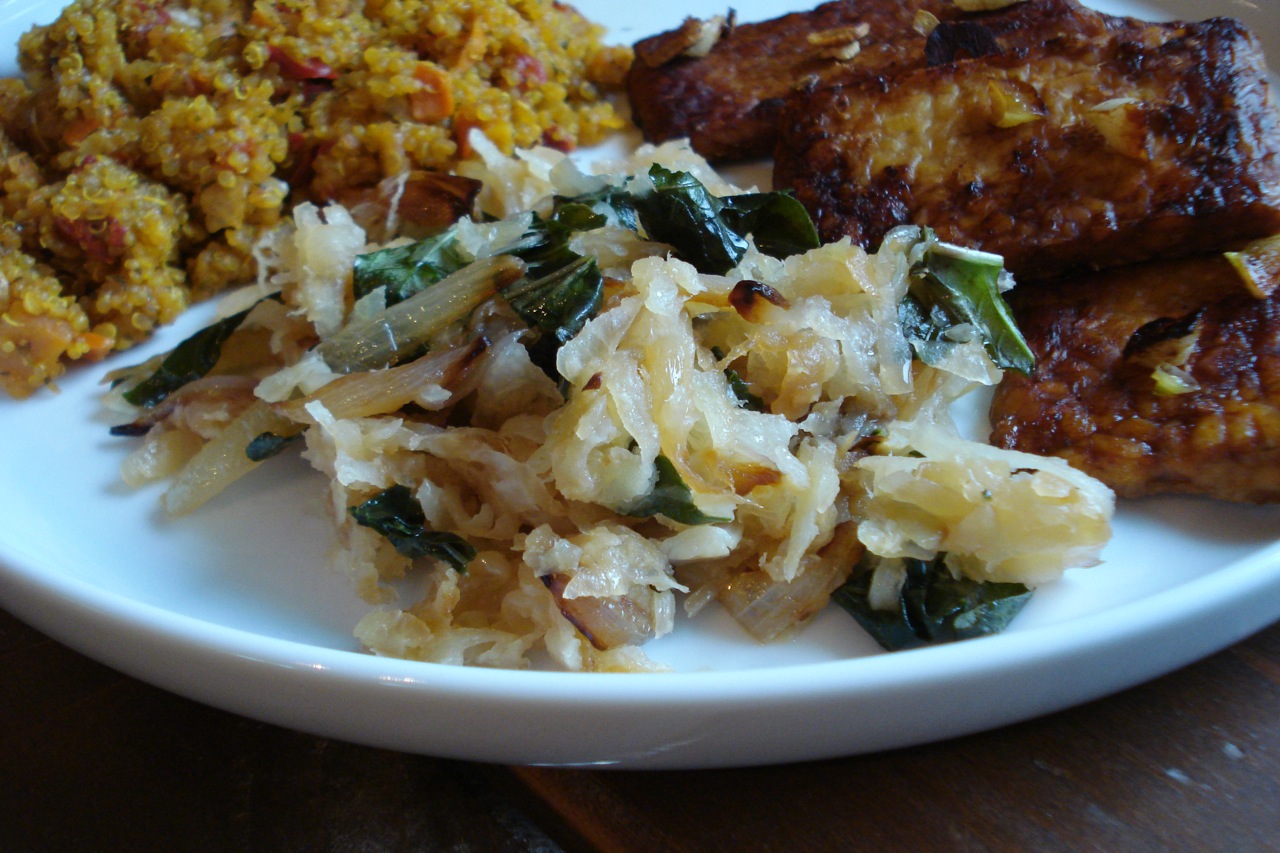 2 good-sized kohlrabi bulbs, peeled (discard leaves & stems)
1 tsp pure salt
1 onion, sliced
4 TBSP butter, ghee, or coconut oil
2 TBSPs (more or less) chopped fresh basil
Grate the kohlrabi (food processor or hand grater).
Sprinkle with salt and allow to sit in a colander for 30 minutes (set colander inside a bowl).
Squeeze water out (can press with the back of a spoon, or squeeze w/ hands).
Melt butter in a saute pan.
Cook onions over medium heat (5 – 10 mins – until golden) and stir in kohlrabi.
Turn heat to low, cover and simmer for 10 minutes.
Uncover and raise heat to medium.
Cook another 2 minutes.
Stir in basil and serve.
______________________________________________________________________________________
SIDE NOTES

:

~ This unusual & exotic looking vegetable shows up in our CSA box now & again. I'd actually be surprised if you've ever heard of kohlrabi unless you belong to a CSA or frequent your local farmers market. It's taken a bit of experimenting over the years, but this recipe has become our stand-by, favorite way to serve it up – really yummy. The kids love it too.

~ Kohlrabi is a member of the cabbage/turnip family. You can eat it raw or cooked. It has a very mild, interesting, but agreeable flavor & is a very nutritious veggie (particularly high in fiber & potassium).

~  Pictured above with BASIC-FRIED-TEMPEH and quinoa w/ sauteed veggies.

~ Once you remove the stems & leaves, peel the bright purple kohlrabi the same way you'd peel a potato (and cut off any hard ends). If you'd like, you can saute the greens separately with olive oil & garlic, but not everyone likes them as they're sometimes a little on the bitter side.

~ You can, of course, swap out the basil for any other fresh herb you have on hand.

 For those with various food restrictions

, this recipe falls into the following categories:

Dairy Free, Gluten Free, Egg Free, Nut Free, Sugar Free, Grain Free, Vegan, Raw

If eating dairy free, use coconut oil instead of butter.