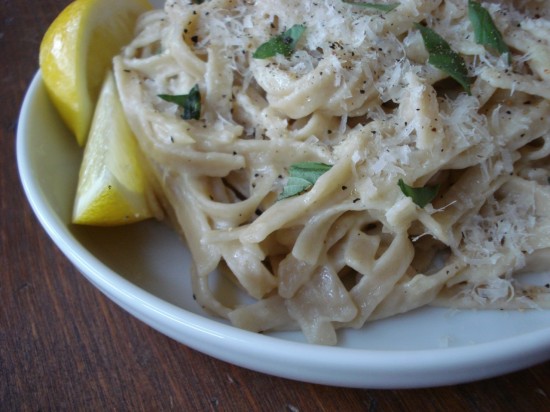 1 pound whole grain fettucine (we use brown rice fettucine)
6 TBSP butter or ghee
1 shallot, minced
1 cup whole milk or heavy cream
1 cup finely grated Parmigiano-Reggiano, divided
1/2 tsp pure salt
1/4 tsp freshly ground black pepper
Fresh parsley or basil, for garnish (optional)
Cook the fettucine in salted water until al dente.
While noodles are cooking, melt the ghee or butter in a saucepan (large enough to eventually hold the pasta) over medium heat.
Add shallots and saute just a few minutes until tender.
Add milk, bring to a boil, and reduce to a simmer.
Cook, stirring frequently until sauce has reduced slightly, about 5 minutes and remove from heat.
Drain noodles in a colander, reserving 1/4 cup of the pasta cooking liquid.
Add the noodles, reserved liquid, and half of the cheese into the butter-milk mixture and toss to combine thoroughly.
Season with salt and pepper to taste.
Divide into individual servings, sprinkle with remaining Parmesan, garnish with parsley or basil if using, and serve with lemon wedges if you'd like.
Serves 3 – 6, depending on portion size.
______________________________________________________________________________________
SIDE NOTES

:

~ As most already know, fettucine alfredo is a pretty heavy, rich dish. Not one that appeals to me very often, but once in a while, thick, cheesy noodles <em>do</em> hit the spot. When you've got milk in the fridge that you have to use up, this is one way to do it.

~ If you don't use milk products, I highly recommend this delicious, dairy free, alternative, noodle dish (which I actually prefer myself if I'm not trying to use up an abundance of milk):  FETTUCCINE-W-PINE-NUT-SAUCE.

~ Using a microplane hand grater/zester for the cheese yields a very fine shred that melts easily into a smooth sauce. Of course, you can shred it with a regular shredder, but the sauce might be slightly lumpy (not that big of a deal). Alternately, you can use pre-shredded cheese, but for best taste and optimal freshness, shredding yourself will yield superior results.

~ You can substitute garlic for the shallot if you prefer.

 For those avoiding certain foods

, this recipe falls into the following categories:

Dairy Free, Gluten Free, Egg Free, Nut Free, Sugar Free, Vegan, Grain Free, Raw

If eating gluten free, be sure to choose a gluten free pasta.

~ Adapted from http://www.foodnetwork.com/recipes/emeril-lagasse/fettucine-alfredo-recipe2/index.html

Note to self: Cook Tinkyada brown rice fettucine no longer than 8 minutes (contrary to package directions).