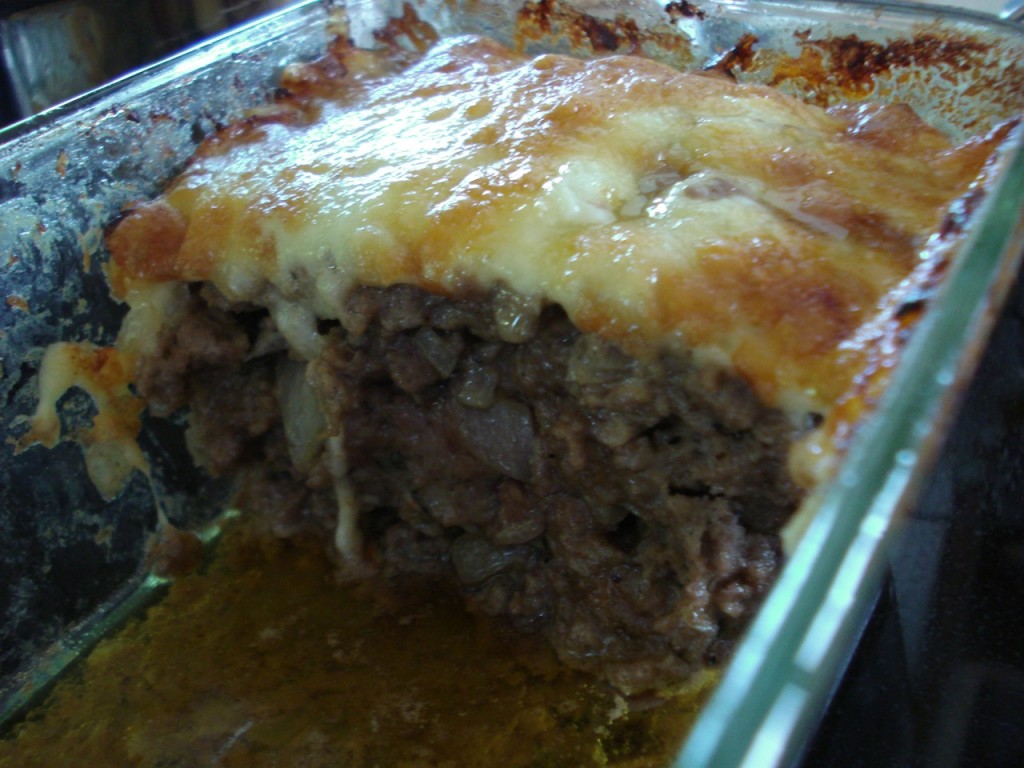 3 TBSP butter, ghee, or coconut oil
1/4 pound fresh shiitake, crimini or portobello mushrooms, finely chopped
1 medium onion, peeled and finely chopped
1/2 cup high quality cream
1 tsp salt
1/2 tsp freshly ground black pepper
1/3 cup high quality bread crumbs
1 pound grass-fed ground beef
1 egg, slightly beaten
freshly grated cheese of choice (enough to cover the top of the meatloaf)
Preheat the oven to 400.
Heat the butter or oil in a saute pan over medium heat.
When hot, add the mushrooms and onions, and cook, stirring occasionally, until the mushrooms have browned and shrunk – approx. 2 – 4 mins.
Transfer the mixture to a bowl, add the cream, salt, and pepper and mix well to combine.
Lightly beat the egg in a bowl large enough to hold all ingredients.
Mix the bread crumbs and beef with the egg.
Add the mushroom mixture to the beef mixture and combine thoroughly.
Grease a quart-sized loaf pan (using butter, ghee, or coconut oil).
Add the meatloaf mixture to the pan, and press into a loaf, conforming to the shape of the pan.
Place pan in the preheated oven, and bake for 35 – 45 minutes, until the top of the loaf is firm.
Half way through the bake time, remove the pan from the oven and cover the top of the loaf with the grated cheese.
Serves 4.
______________________________________________________________________________________
SIDE NOTES

:

~  I have found it a little easier to bake this in a rectangular 8 x 6 pyrex.  I find it cooks quicker (about 35 mins as opposed to 45) and more thoroughly as a casserole as opposed to a loaf – but do what works for you.

~  It's very easy to make bread crumbs at home using your own high-quality bread.  Click HERE for details.

~  If you have a farm nearby where you can get fresh cream, all the better.

~  I like this best with butter or ghee (as opposed to coconut oil) and use a sharp cheddar.

~  First time I made this, the cheese got a bit too toasty in the oven for the full 45 mins.  This is why I recommend adding the cheese half way through the cook time.  Up to you.

For those with various food restrictions

, this recipe falls into the following categories:

Dairy Free, Gluten Free, Egg Free, Nut Free, Sugar Free, Grain Free, Vegan, Raw

If eating gluten free, be sure to use gluten free bread crumbs.  If eating grain free, it's likely you can omit the breadcrumbs altogether, but I have not tested this myself.