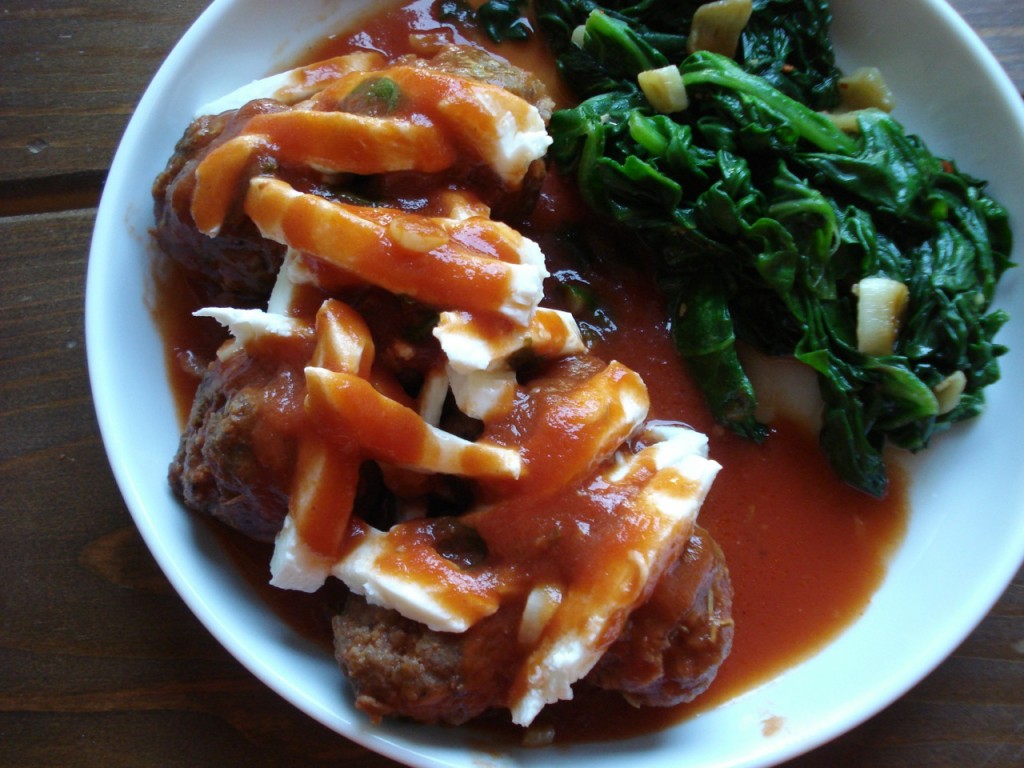 FOR THE MEATBALLS:
1 free range egg, lightly beaten
1 pound grass-fed ground beef
1/2 cup high quality breadcrumbs (see below for alternatives)
2 tsps dried minced onion (or 2 TBSP finely chopped fresh onion)
1 tsp dried basil
1 tsp dried oregano
1 tsp dried thyme
1 tsp dried rosemary
1/2 tsp pure salt
1/2 tsp Worcestershire sauce
2 TBSP butter, ghee, or coconut oil
2 cups (give or take) high-quality marinara sauce (recipe below)
Fresh mozzarella cheese to taste
Prepare marinara sauce if using homemade (see below) and keep warm on stove.
Lightly beat the egg in a bowl large enough to hold the rest of the ingredients.
Mix the remaining ingredients

except

for the butter (or oil), marinara sauce, and mozz, with the egg.
Shape into 1 & 1/2 inch balls.
Saute meatballs in ghee (or oil of choice) over medium heat, turning occasionally, for about 15 – 20 mins, until browned on all sides and cooked through.  OR — place the meatballs on a parchment paper covered cookie sheet and bake at 350 degrees for 30 minutes (in this case, you can omit the butter/oil).
Add meatballs to the marinara sauce and lightly simmer for a few minutes.
Transfer meatballs to individual plates and top with mozzarella cheese.
Pour hot marinara sauce over the top to soften and melt the cheese and serve.
FOR THE SAUCE – An easy, 10 Minute Marinara:
2 TBSP butter or ghee
4 garlic cloves, minced or crushed
28 oz package crushed or strained tomatoes
1 cup water
1/2 tsp pure salt
freshly ground black pepper to taste
fresh basil or parsley, chopped (as much as you'd like)
1 – 2 TBSP extra virgin olive oil
Warm butter or ghee over medium heat and saute garlic for 1 – 2 mins.
Add tomatoes, salt and pepper.
Add the water to the empty tomato container, swish it around (to collect the remaining remnants of tomato), and add it to the pot.
Simmer for approx 10 mins.
Stir in chopped basil, drizzle in the olive oil and serve.
______________________________________________________________________________________
SIDE NOTES

:

~  We love this meal.  It is so delicious and satisfying.  Saute some greens (or other vegetables) with garlic on the side, or make a nice big salad for a great meal.  This recipe will yield about 2 dozen meatballs which will feed a family of 4.  Of course, you can transfer the meatballs to a large baking pan and melt the cheese over the top in the oven, but to us, it's delicious (& very easy) without that step.

~  If you make a large batch of the sauce, and keep it in mason jars in the freezer, it's really convenient to just pull out and defrost for something like this.  Likewise for the meatballs themselves.

~  It's easy to make your own, quality breadcrumbs at home if interested (click HERE for details).  I make a big batch every once in a while, and store in a large glass mason jar in the freezer.

~  If you don't have breadcrumbs on hand and don't want to make them, instead, tear apart a few pieces of high-quality bread into small pieces (1 cup – packed) and toss the bread with 6 TBSP milk.  Let soak a few minutes until softened and combine with the meat mixture.  (We like this version a lot.)

~  If you're avoiding grains completely, simply replace the breadcrumbs with an equal amount of almond meal (tip from friend and fellow real food advocate – Sharon Shiner).

~  I know there are tons of variations on how to make meatballs.  You can add 1/2 cup freshly grated parmesan cheese to the mix, or vary the spices.  If anyone has any meatball secrets they'd like to share, feel free to comment below…

 For those with various food restrictions

, this recipe falls into the following categories:

Dairy Free, Gluten Free, Egg Free, Nut Free, Sugar Free, Grain Free, Vegan, Raw

If eating gluten free, use gluten free breadcrumbs, and be sure to check labels of packaged ingredients if eating gluten and/or sugar free (omit the Worcestershire sauce if necessary).  If eating grain free, use almond flour instead of breadcrumbs.