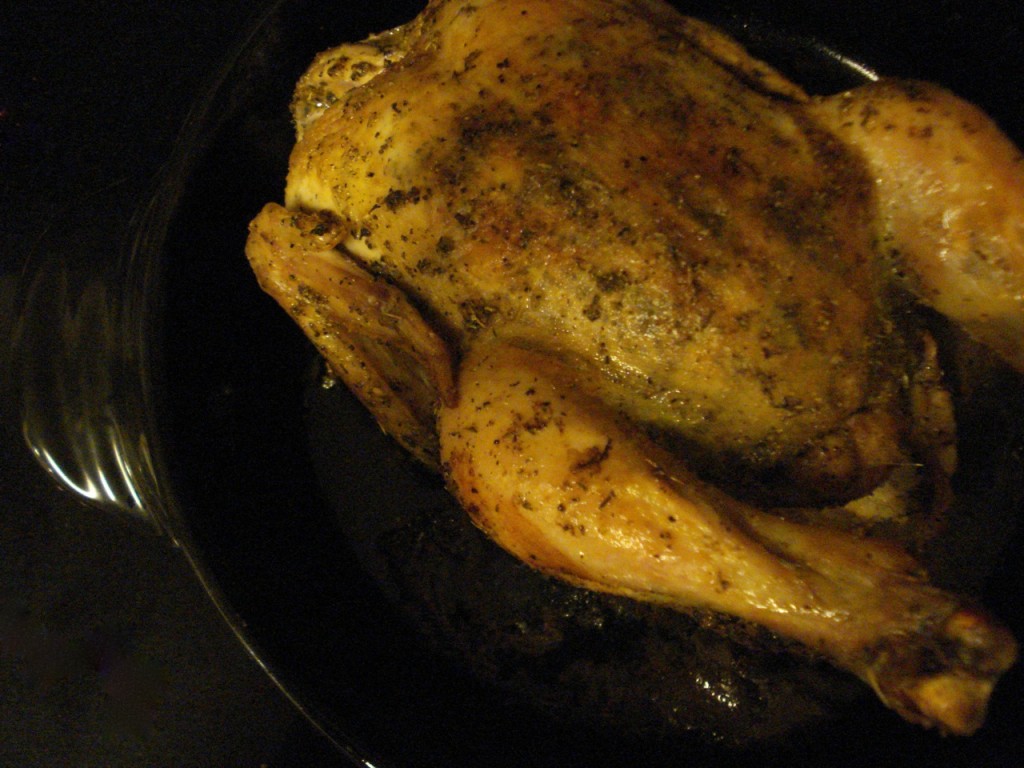 2 TBSP chicken-herb-rub (click link or see below)
1 clove garlic
1/4 cup melted butter, ghee, or coconut oil
1 whole chicken (mine was 3 lbs)
1 lemon peeled & poked all over w/ a fork AND/OR 1 onion peeled & quartered (optional)
Preheat oven to 375.
Remove the insides of the chicken (if that hasn't already been done).
Place chicken herb rub ingredients in a small food processor with the garlic and butter, and puree into a paste.
Rub the herb paste all over the chicken, being sure to get underneath as well as on the top of the skin (you'll have to make a few slits in the skin to get underneath if an opening doesn't already exist).
If time allows, let sit for up to 2 hours in the fridge. If not, proceed with roasting.
Place either or both, lemon and onion into the hollow inside of the chicken before placing in the oven (you can really put any vegetables or herbs in there you'd like).
Roast for a total of 60 minutes (give or take) as follows (adjusting the time depending on the size of the bird):  Roast for 20 minutes wing side up.  Turn the chicken so the other wing is facing up, and roast for 20 minutes more.  Turn the chicken breast side up for the remaining 20 minutes.  If you use a meat thermometer, roast until the internal temperature of the breast reads 160 and the thighs 165 – 170.
Let rest for 10 – 15 minutes before carving.
Chicken Herb Rub
Combine the following:
2 TBSP dried oregano
1 TBSP dried thyme
1 TBSP freshly ground black pepper
1/2 TBSP pure salt (or 1 TBSP coarse salt)
(This amount of herb rub will make more than you need for this recipe.  It's enough for 2 chickens.  Save the remainder in a sealed container for future use.)
__________________________________________________________________
SIDE NOTES

:

~  Okay, this was my first attempt at cooking a whole bird.  It was actually our Thanksgiving dinner.  Somehow, I thought a chicken would be easier than a turkey, and I happened to have a this little guy in the freezer.  I had been avoiding looking it in the *neck* for quite some time.

~  While it's pretty easy for me to handle and cook meat at this point (being a reformed vegetarian), still — I don't really like looking at headless cluck-cluck on my kitchen counter.  Beyond that, I couldn't believe how easy this was to prepare.  And of course, it's much less expensive to buy a whole bird rather than parts.  I just assumed my first few attempts at this would flop.  Luckily – with tips and suggestions from friends, and guidance from a few trusted cookbooks – it was smooth sailing.

~  One book said to definitely truss the chicken (for even cooking), another said definitely not to.  We received ours already trussed (using only the skin itself), so that's how we kept it.  For video instructions on how to truss a chicken, click HERE.

~  Adding the lemon/onion, or other vegetables/herbs to the cavity of the chicken supposedly helps to keep the bird moist and add a touch of flavor.  I think this topic is debatable.  Over time, I'll experiment & see how it goes.

~  HOW BIG OF A BIRD SHOULD I BUY?  I now know to figure on one pound of bird for every person.  This 3 lb bird was not enough for 4 of us.  Luckily, there were plenty of side dishes for us to get our fill.

~  If you'd like, at the end of the meal, put the carcass in the fridge and use it the following day to make delicious, protein-rich CHICKEN BROTH.

~  I thought I'd post this recipe now in case anyone is considering a dish like this for the holidays.  Enjoy!

For those with various food restrictions

, this recipe falls into the following categories:

Dairy Free, Gluten Free, Egg Free, Nut Free, Sugar Free, Grain Free, Vegan, Raw

If eating dairy free, use coconut oil instead of butter.

Chicken Herb Rub Paste: