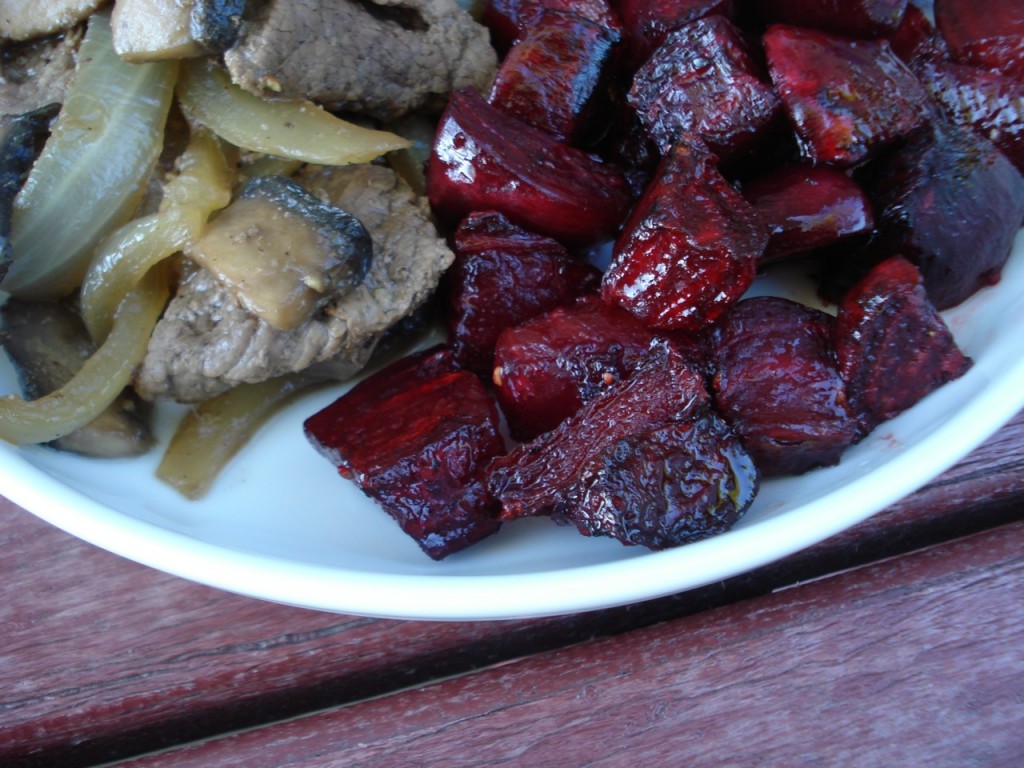 2 TBSP coconut oil, butter, or ghee
1 large onion
6 oz mushrooms of choice, washed & sliced
1 pound grass-fed minute steaks, roughly chopped
pure salt and pepper to taste
2 TBSP Worchestershire sauce
Saute onion in oil or butter until softened and lightly browned, about 7 mins.
Add mushrooms and saute for 2 – 3 minutes longer.
Remove vegetables from pan and add steak.
Sprinkle with salt and pepper, and saute until browned on all sides, 4 – 6 minutes.
Stir in Worchestershire sauce.
Add vegetables back to the pan and saute just a few minutes, until heated through.
_______________________________________________________________________
SIDE NOTES

:

~  This is a very simple and delicious meal to prepare.

~  Minute steak is thinly sliced steak (sometimes called "shaved steak") that's easy to toss in a pan for a quick stir fry or something like this.

~  Shown here with balsamic-roasted-beets.

Enjoy!

 For those avoiding certain foods

, this recipe falls into the following categories:

Dairy Free, Gluten Free, Egg Free, Nut Free, Sugar Free, Grain Free, Vegan, Raw

If eating dairy free use coconut oil instead of butter.  I don't know that there are any sugar free Worchestershire sauces out there, so simply substitute soy sauce if need be.