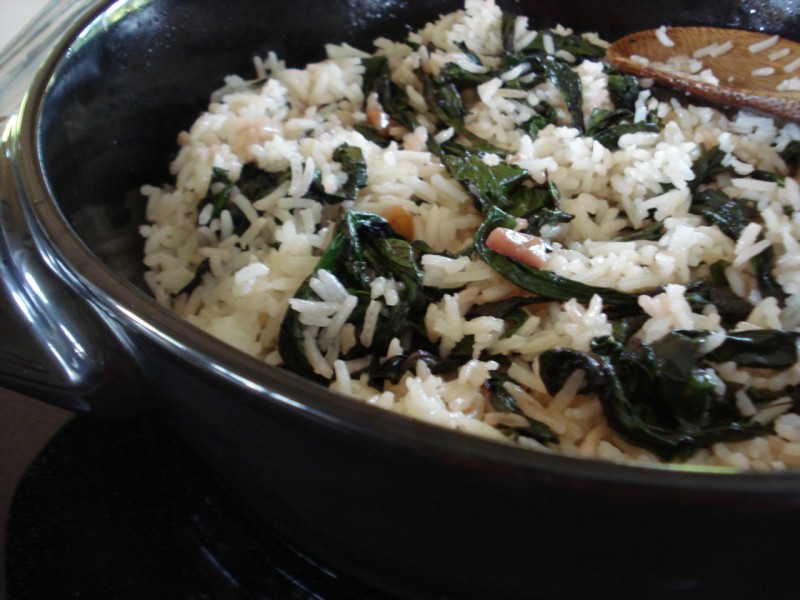 For the Rice:
1 cup dry basmati rice (or your favorite / whatever you have on hand)
1 & 1/2 cups water (or appropriate amount depending on type of rice used)
1 TBSP butter, ghee, or coconut oil
1/2 tsp pure salt
Combine rice, water, ghee and salt in a small pot and bring to a boil.
Stir once to dislodge any rice stuck to the bottom of the pot.
Reduce heat to low and cook for the appropriate amount of time depending on the type of rice used.
For the Greens:
1 TBSP butter, ghee, or coconut oil
2 – 4 garlic cloves, roughly chopped
6 oz greens washed and roughly chopped
pure salt and freshly ground black pepper to taste
While rice is cooking, prep greens (or grab a bag of your pre-washed & chopped greens).
Melt ghee in saute pan and cook garlic for 2 mins until just beginning to color.
Add greens, sprinkle in some salt and pepper, and cook until done to your liking.
When rice is cooked, add it to the pan with greens and toss to combine.
Serves 3 – 4 as a side dish.
_________________________________________________________________________
SIDE NOTES

:

~  A side of rice on its own and a side of greens on its own is not nearly as exciting as mixing them together.

~  This time, I used beet greens (shown below).