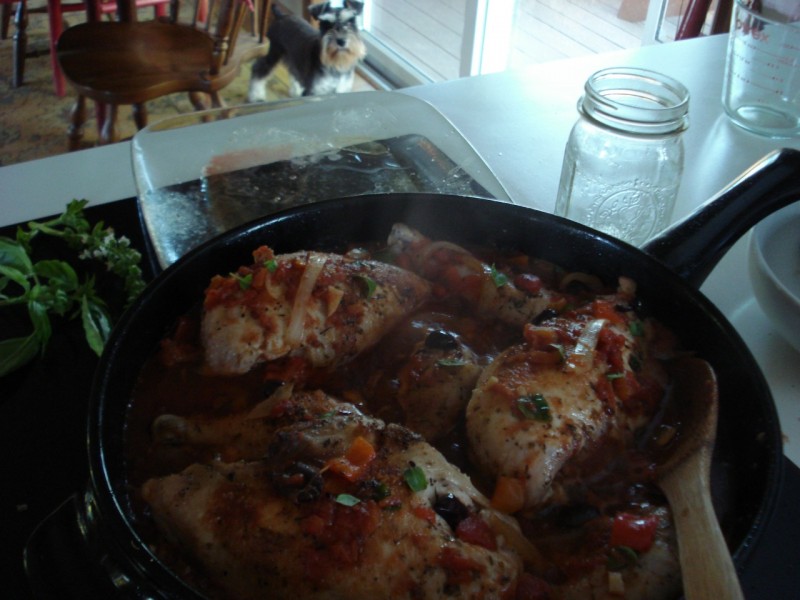 1 chicken cut into parts (legs, thighs, breasts, wings)
chicken-herb-rub to coat chicken (or simply use salt & pepper)
3 tablespoons butter, ghee, or coconut oil
1 large bell pepper (any color), chopped
1 medium onion, chopped
3 garlic cloves, finely chopped
3/4 cup dry white wine (optional)
1 (28-ounce) package diced tomatoes with juice
3/4 cup chicken broth (increase to 1 & 1/4 cups if omitting wine)
1/4 cup chopped kalamata olives (or 3 tablespoons drained capers)
1 & 1/2 tsps dried oregano
1 tsp crushed red pepper flakes
1/4 cup coarsely chopped fresh basil leaves, divided
Sprinkle the chicken with chicken herb rub (or salt & pepper) to coat.
In a large saute pan, heat the butter or oil at medium high.
Cook the chicken parts until just browned — about 5 minutes per side (if all the chicken does not fit in your pan, cook in 2 batches).
Transfer the chicken to a plate and set aside.
Add the bell pepper, onion, and garlic to the same pan and saute over medium heat until the vegetables are tender — about 5 minutes.
Add the wine (if using) and simmer until reduced by half, about 3 minutes.
Add the tomatoes with their juice, broth, olives (or capers), oregano, crushed red pepper flakes, and about half of the basil leaves.
Return chicken parts to the pan and mix with sauce to coat.
Bring sauce to a simmer and continue simmering (covered) over medium-low heat until the chicken is cooked through — 20 to 30 minutes.
Transfer the chicken to individual plates or a large platter.
If necessary, boil the sauce until it thickens slightly — about 3 minutes.
Spoon sauce over the chicken, garnish with the remaining basil leaves and serve.
_____________________________________________________________________
SIDE NOTES

:

~  Technically, you can use any 8 pieces of chicken you have.  In other words, it can be legs and thighs only or any combination of parts — depending on what you have on hand.

~  Always a crowd pleaser.

Enjoy!  =)