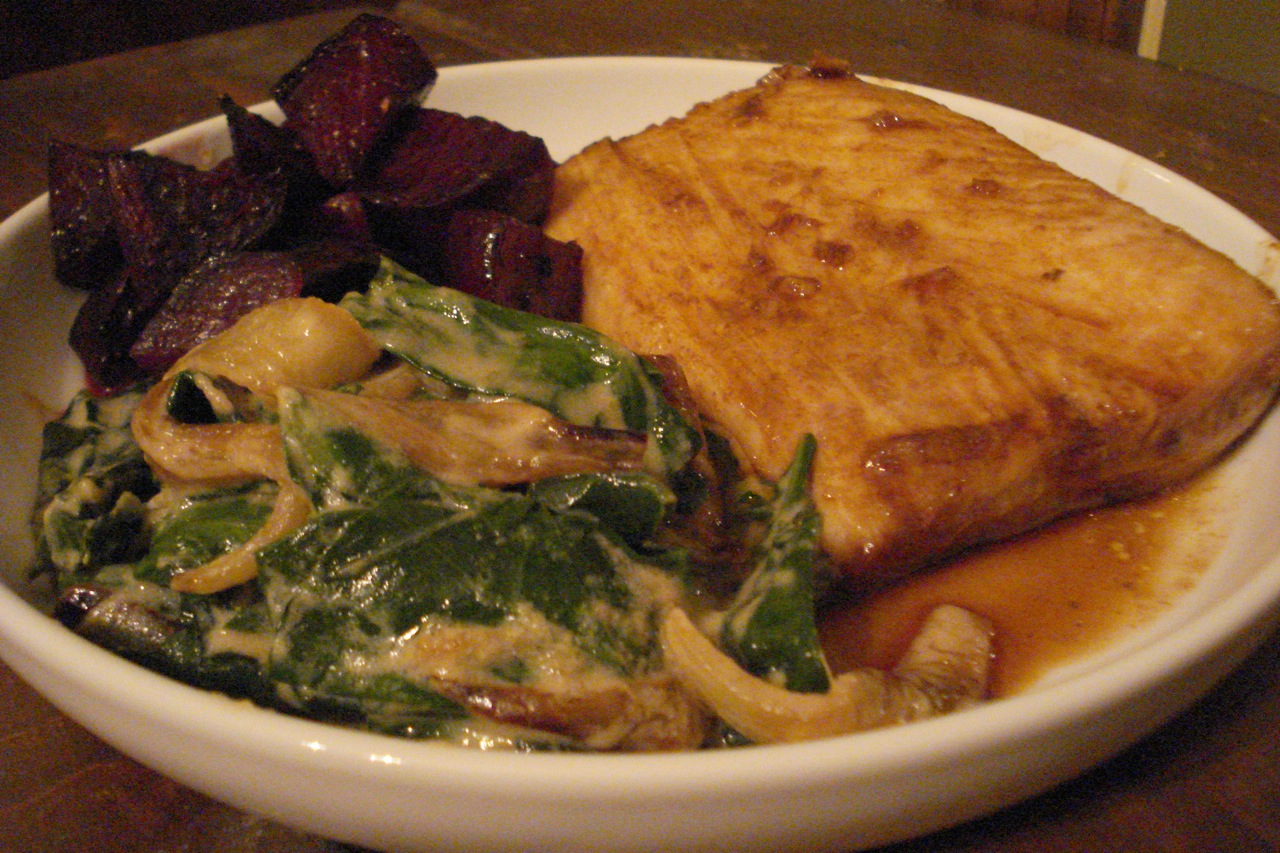 1/4 cup tamari/soy sauce
2 TBSP honey
1 garlic clove, minced or crushed
2 mahi filets (about 7 ounces each)
In a small bowl (or measuring cup), whisk together soy sauce, honey, and garlic.
Place filets in glass pyrex dish and pour marinade over the top.
If you have time, cover and let marinate in the refrigerator for an hour or two.
Cook under broiler (on high) for 3 to 4 minutes on each side (or until done to your liking).
______________________________________________________________________________________
SIDE NOTES

:

~  Very basic, very tasty, very kid-friendly.  I've made this about a half-dozen times now, and it's great. Tried it first with salmon, and it worked for me, but not so much for the kids.  It was a little too fishy tasting for them (being that this is new territory for us!). Taking the advice of a friend, we've found mahi to be a good starter fish since it's very mild tasting. A little extra marinade over the top for the kids, and they actually enjoyed it from the get-go. We'll have to work our way up to the salmon!

~ My Mom demonstrated this broiling method while up for a visit.  I love how fast and easy it is.  The key is not to overcook it.  Depending on the thickness of the filet, 3 or 4 mins on each side should do it. Once or twice we had to stick it back in for a minute or 2, but that's better than overcooking & ending up with dried out fish. If you'd like, just cut it open to see if the middle is cooked through before taking out of the oven.

~ If using frozen fish filets, transfer from freezer to refrigerator the day before.  If you need to defrost in a hurry, place filets (in sealed plastic) in a bowl of cold water and let sit on the counter until thawed.  Should only take an hour or two, depending on thickness. Might want to change the water once or twice to keep it cold.  If you're really in a hurry to defrost, put the fish (in sealed package) in a bowl in the sink, and let it sit under cold running water.  Should be completely thawed in about 20 mins.

 For those with various food restrictions

, this recipe falls into the following categories:

Dairy Free, Gluten Free, Egg Free, Nut Free, Sugar Free, Grain Free, Vegan, Raw

If eating gluten free, be sure to use a gluten free tamari.

~ We've tried this with various add-ins, like ginger and balsamic vinegar, but honestly, we like this simpler version best. Try it a few different ways & decide for yourself.

~  Shown here with COLLARD-GREENS-W-TAHINI-SAUCE and BALSAMIC-ROASTED-BEETS.