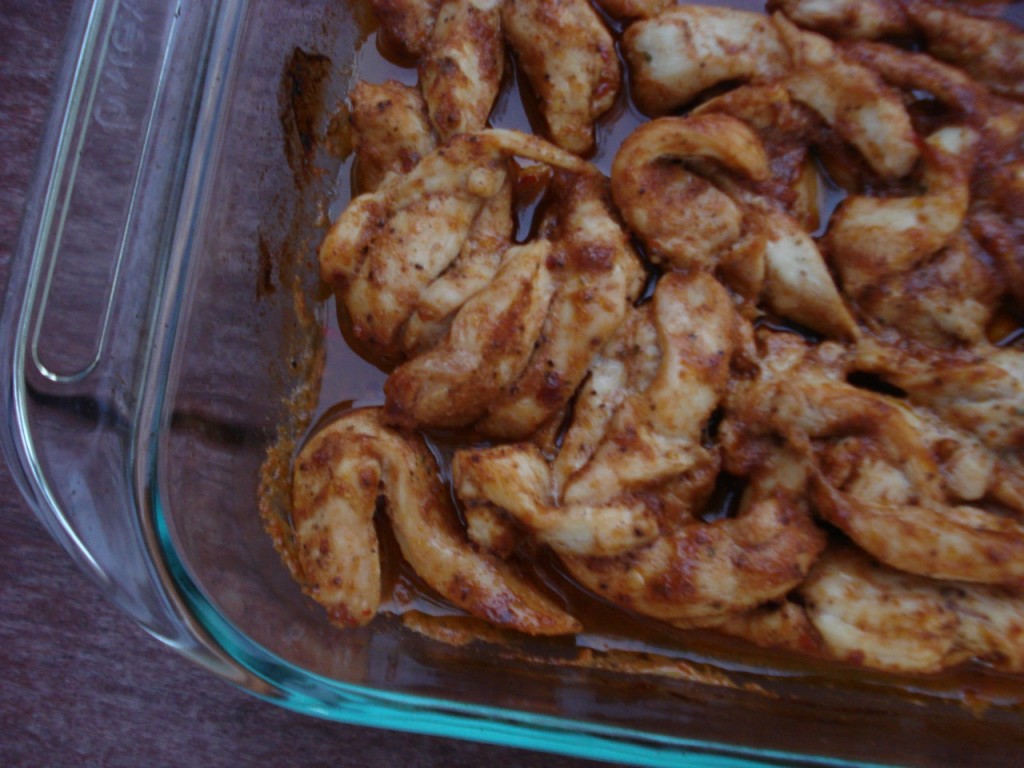 2 lbs chicken (on bone  – legs, thighs, wings, breasts, or boneless breasts – whatever you have)
garlic pepper (see notes below)
6 oz (3/4 cup) high quality BBQ-sauce
For skinless breasts or cutlets:
Place chicken in a 9×13 pyrex and sprinkle both sides generously with garlic pepper.
Coat both sides of the chicken with BBQ sauce (simply pour into the pyrex and toss).
Bake in the oven at 375 for 20 – 30 mins until cooked through.
For bone in / skin on chicken parts:
Melt some butter in a large skillet.
Add chicken parts and roll in melted butter to coat on all sides.
Sprinkle with garlic pepper on both sides.
Brown chicken on both sides (roughly 5 – 7 minutes per side).
Add BBQ sauce and toss to coat.
Bake in the oven at 375 for about 30 mins.
________________________________________________________________________________________
SIDE NOTES

:

~  Easy and Good!  Prepare one or two simple side dishes while the chicken is cooking and enjoy  =)

~  This time, I had boneless chicken strips on hand, so that's what I used.  With smaller chicken pieces like this, baking for 20 – 25 minutes is all that's needed.  If you have larger cutlets or a whole cut up chicken, you will likely need a longer bake time – but begin checking at 25 minutes to avoid drying out the chicken.

~  For the garlic pepper, simply mix together 4 tsps garlic powder, 2 tsps black pepper, and 1/2 TBSP dried parsley flakes, and store in an empty spice shaker.

~  If you'd like to try a HOMEMADE BBQ SAUCE, simply melt the coconut oil (or butter or ghee) and mix together all of the following ingredients (this yields the exact amount needed for this recipe – 3/4 cup):
1/4 cup high quality ketchup
3 TBSP natural sugar of choice (or 18 drops liquid stevia)
2 TBSP apple cider vinegar
2 TBSP coconut oil, butter, or ghee, melted
1 TBSP lemon juice
1/2 TBSP Worcestershire sauce
1 to 1 & 1/2 tsps pure salt (to taste)
1 tsp high quality mustard
1 tsp chili powder
1 tsp paprika
1/2 tsp red pepper flakes
I like to QUADRUPLE THE SAUCE and freeze the extra 3 portions in separate, small, glass, mason jars for future use.  Preparing ahead like this makes an easy recipe even easier – while you remain in control of the ingredients in your condiments!
1 cup high quality ketchup
3/4 cups natural sugar of choice (or 72 drops liquid stevia)
1/2 cup apple cider vinegar
1/2 cup coconut oil, butter, or ghee, melted
1/4 cup lemon juice
2 TBSPs Worcestershire sauce
4 to 6 tsps pure salt (to taste)
4 tsp high quality mustard
4 tsp chili powder (I use 3 tsp regular chili powder and 1 tsp chipotle powder)
4 tsp paprika
2 tsps red pepper flakes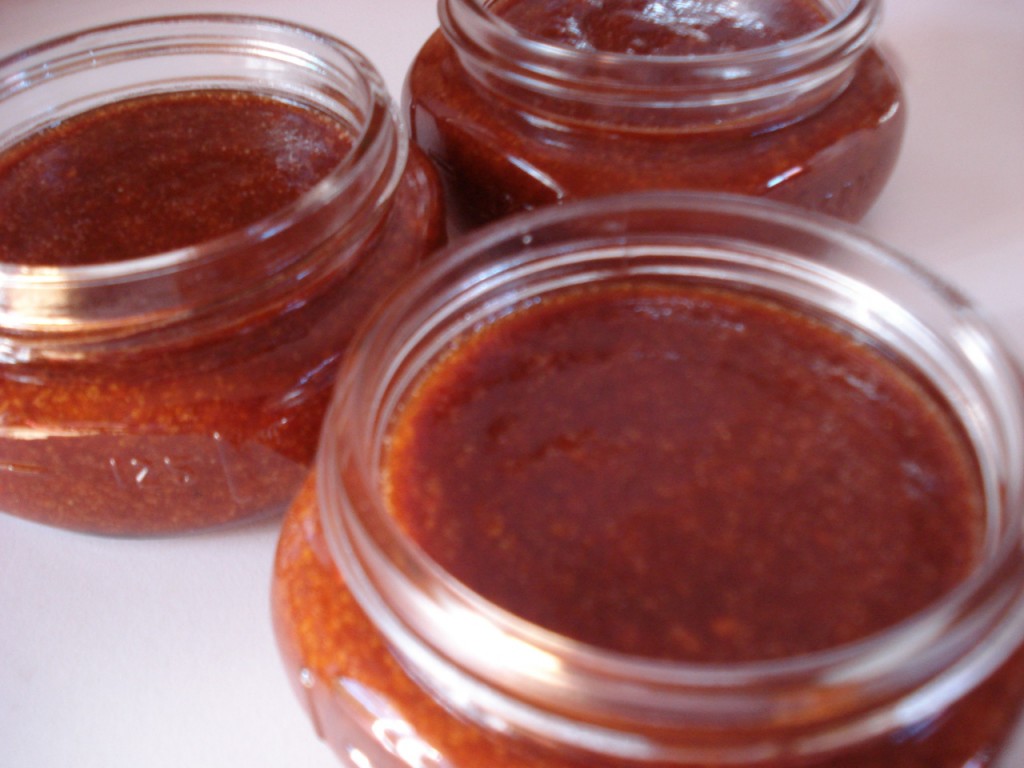 For those with various food restrictions

, this recipe falls into the following categories:

Dairy Free, Gluten Free, Egg Free, Nut Free, Sugar Free, Grain Free, Vegan, Raw

If eating gluten and/or sugar free, be careful choosing a BBQ sauce or simply make your own.  Click HERE  for instructions on how to make a gluten and sugar free BBQ sauce. 
Recipe adapted from http://divascancook.com/2012/05/baked-bbq-chicken-recipe-easy-barbecue-oven.html