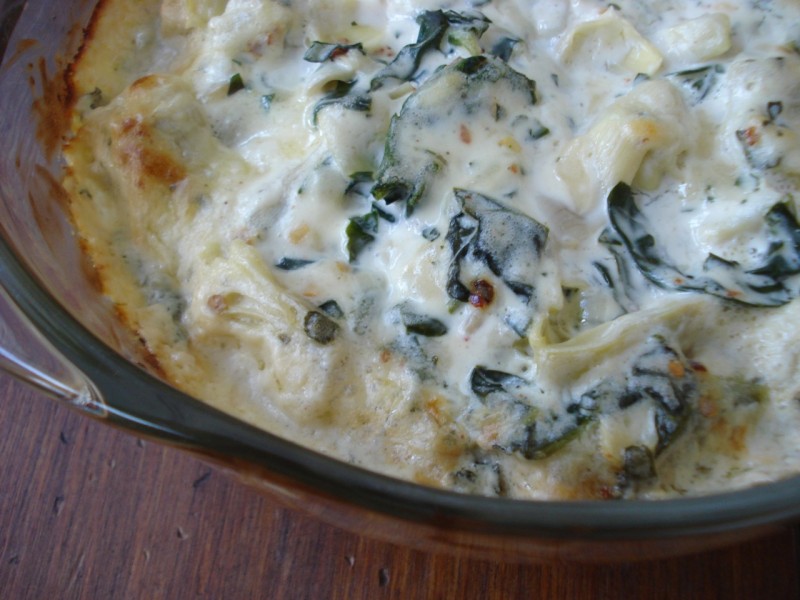 1 14-oz can quartered artichokes packed in water, rinsed and drained
1 cup packed spinach leaves (fresh or frozen)
6 oz cream cheese
1/3 cup freshly grated parmesan cheese
1/4 cup mayo
1/4 cup sour cream
1 TBSP lemon juice
1 tsp crushed red pepper flakes (optional)
1/4 tsp pure salt
1/4 tsp garlic powder
Combine everything in an oven proof baking dish.
Bake at 375 for 30 mins — give or take — until it's bubbly and looks good!
________________________________________________________________________________
SIDE NOTES

:

~  We munched on this with pieces of warm, sour dough bread while preparing Thanksgiving dinner (and a few times since)  =)

~  By the way, if you still gasp at the thought of eating rich (high fat) foods like cheese, mayo, and sour cream — it's time for you to let go of outdated, embarrassing science.  You're running from the wrong thing, hurting your health in the process, and of course… missing out on some good eats.  If this concept is baffling to you in any way, my webinar series can quickly and easily propel you out of the "junk" science age which is largely profit oriented.

Enjoy!