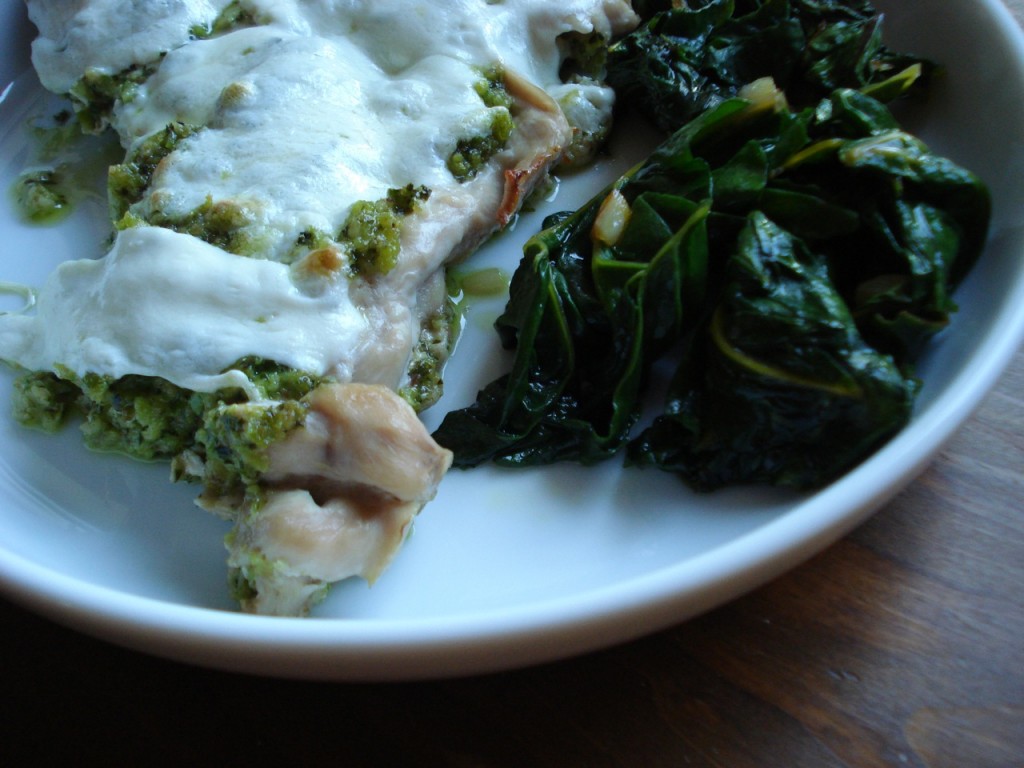 coconut oil (for greasing the dish)
3/4 cup (give or take) pesto sauce
1 pound pastured chicken breast (cut into strips if you'd like)
salt and pepper to taste
fresh mozzarella cheese, sliced or shredded (optional)
Preheat the oven to 375.
Lightly grease a 9 x 11 baking dish.
Spread half of the pesto on the bottom of the dish.
Lay the chicken over the pesto.
Lightly sprinkle with salt and pepper.
Spread the remaining pesto over the chicken.
Bake for 20 – 30 minutes (until chicken is just cooked through – but not over done).
Remove pan from oven and place cheese over the top.
Bake for 5 minutes more and enjoy.
Serves 3 – 4
______________________________________________________________________________________
SIDE NOTES

:

~  I almost always have extra pesto sauce in the freezer, so this has become a very easy dinner for me to put together. It's delicious without too much fuss.

~  The cook time really depends on how big your chicken pieces are.  You can simply remove the pan from the oven and cut a piece in the middle to see if it's ready for the cheese.

~  We enjoyed this the other day with a big tomato and cucumber salad – straight from the garden.

~  Here are a few pesto options:  garlic-scape-parmesan-pesto, spinach-walnut-pesto (dairy free), sundried-tomato-olive-pesto (dairy free).  I've been using the garlic scape pesto for this because that's what I have a lot of in the freezer.

For those with various food restrictions

, this recipe falls into the following categories:

Dairy Free, Gluten Free, Egg Free, Nut Free, Sugar Free, Vegan, Raw, Grain Free

If eating dairy free, be sure to use a dairy free pesto and omit the mozzarella.  (There are nuts in most pesto sauces – whether homemade or store bought.)