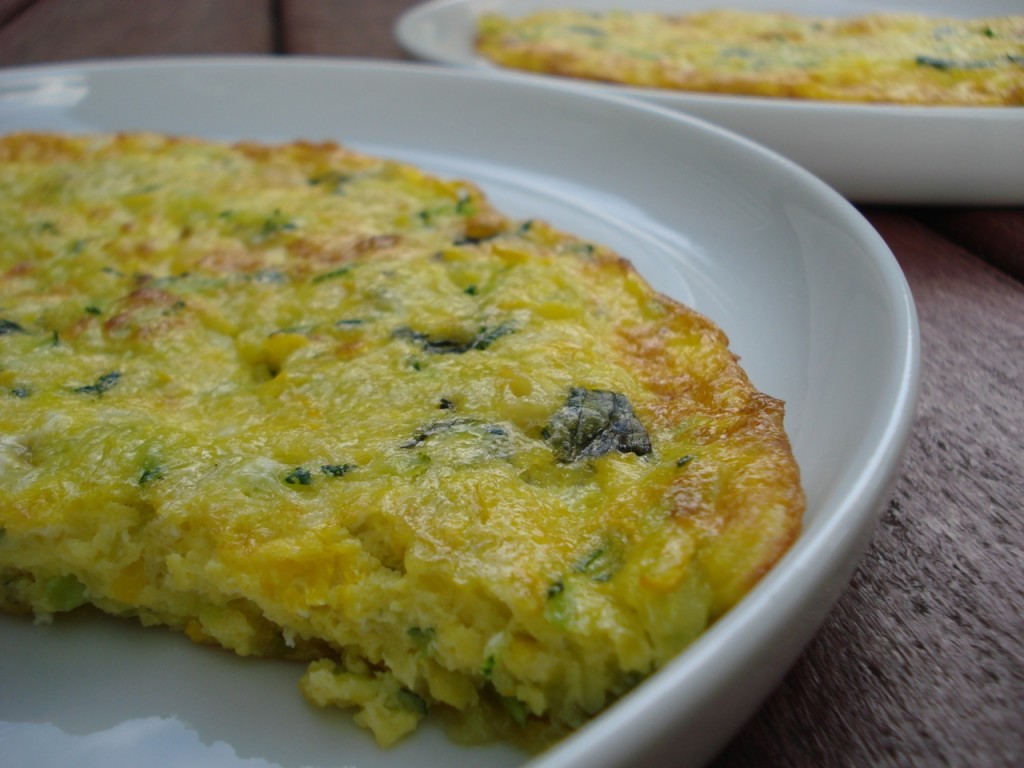 approx 1 & 1/2 pounds of zucchini, washed & ends trimmed
3 TBSP coconut oil, ghee, or butter (or a combination)
2 garlic cloves, minced or crushed
2 TBSP (or more) fresh basil, roughly torn
6 large eggs, lightly beaten
1/4 cup high quality parmesan cheese, grated (optional)
salt and black pepper to taste
Shred the zucchini on the largest holes of a hand grater, or put it through a food processor with shredding blade.
Place shredded zucchini in a colander (set inside a bowl), sprinkle generously with salt, and mix to combine.
Let the zucchini sit for 15 – 20 minutes, occasionally pressing with the back of a spoon to drain the moisture (discard the water).
While waiting for the zucchini to drain, mince the garlic, tear up the basil, and grate the cheese.
Pre-heat the broiler to high.
Heat oil in a 10-inch (or there-about), non-stick skillet (stove-top).
When oil is hot, add zucchini and garlic and saute until tender – about 7 minutes.
Add the basil and stir to combine.
Combine the cheese with the egg, add salt and pepper to taste, and pour the mixture over the zucchini.
Use a utensil to spread the vegetables evenly in the pan.
Cook over medium-low heat, occasionally sliding a spatula around the edge of the pan to loosen the frittata as it sets.
Continue cooking until the frittata is set, except for the top – about 8 minutes.
Place pan directly under the broiler until the top is cooked and just beginning to brown (1 – 3 minutes). Be careful not to let it burn!
Remove pan from oven and serve.
Serves 2 – 4.
____________________________________________________________________________________________
SIDE NOTES:
~ Those who belong to a CSA or have their own vegetable garden usually have zucchini coming out their ears this time of year. This dish is a delicious way to enjoy the abundance of the season.  We've had it several times already this summer.  It can be breakfast, lunch or dinner.
~  You'll need anywhere from 2 – 4 zucchini, depending on size.  A kitchen scale comes in handy for things like this, or you can just estimate if you prefer.
~  Don't worry about trying to get all the moisture out of the zucchini – you can't.  Just squeeze out what you can.
~  I use a giant handful of fresh basil – at least a 1/4 cup, maybe 1/3 or 1/2.
~  It doesn't need much added salt, because the zucchini will already be salty (from the draining step).  1/4 tsp added to the egg is about right, or you can skip it entirely and just sprinkle a little salt at the table if needed.
~  If you're still using Teflon pans, hit yourself on the head with one, then throw them all away.  There are safer non-stick options these days.
~  I think the pan I used this time was a 12 inch.  No big deal.  In this case, it will just be thinner and cook faster (so be careful it doesn't burn).  The only trouble might be if you use a smaller pan, because it might not cook all the way through (could end up gooey in the middle and/or burnt on the outside).  If the pan you're using is on the small side, it would be a good idea to reduce the recipe.
~  Don't decide to write an email or fold the laundry while the frittata is under the broiler.  It can look fine one minute, and 30 seconds later be burnt.  Stay close by and keep your eye on it.  It's so annoying to ruin a meal in the final few minutes!  Also, be careful not to burn yourself on the hot handle of the pan after broiling.  Keep a towel or something draped over the handle after you remove it from the oven to remind yourself how hot it is.
~  Some other ways to put the abundant zucchini harvest to good use:  zucchini-pancakes, black-bean-&-zucchini-quesadillas, zucchini-bread, pan-seared-summer-squash-w-garlic-&-mint, zucchini-marinara, spaghetti-w-zucchini-&-olive-oil.
~  Adapted from The Complete Italian Vegetarian.
For those with various food restrictions
, this recipe falls into the following categories:
Dairy Free, Gluten Free, Egg Free, Nut Free, Sugar Free, Grain Free, Vegan, Raw
If eating dairy free, use coconut oil and omit the cheese.