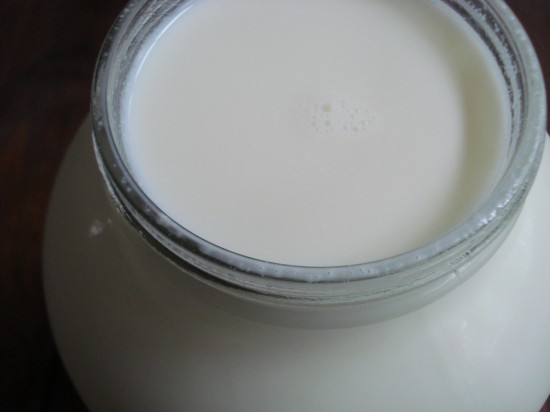 If you find you have an abundance of milk on hand and are looking for ways to use it up before it turns, here are some tasty options:
SMOOTHIES-&-MILK-SHAKES
RICE-PUDDING
PANCAKES
BAKED-MAC-&-CHEESE
OATMEAL/PORRIDGE/CEREAL
CREAMY-CORN-SOUP
CREAMY-CARROT-SOUP
CREAMY-POTATO-CHEDDAR-SOUP
CREAMY-TOMATO-SOUP
CREAMY-ROASTED-PARSNIP-&-PEAR-SOUP
FETTUCINE-ALFREDO
Keep in mind, freezing milk is also a viable option.  When I do so, I freeze in specific portions.  For example, I'll freeze 2 & 1/2 cups of milk in a large, glass mason jar which is the exact amount I need to make a big batch of breakfast rice pudding.  For the record, it's easiest to use frozen milk to cook with, as it won't be completely smooth after thawing (and therefore probably an unpleasant consistency for drinking).  Although, if you'd like, you can just give it a quick whirl in the blender and it should be good as new – in smooth, drinkable condition.
Be sure to thaw milk in the refrigerator.  It will take about 2 days to thaw (at least, this is the case with a volume of 16 oz), though you don't need to wait until it's completely thawed if you're cooking with it.  As long as it's melted enough to pour into a pot, you're good to go.  You can always use a butter knife to break up the last big chunk of ice if you're having trouble getting it out of the jar.